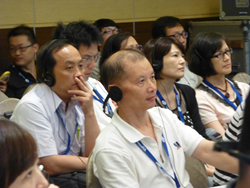 Innovaacom is developing education programs and digital health solutions specific to the Asia market that support advanced systems and sharing of global medical knowledge
Atlanta, Georgia (PRWEB) March 30, 2015
Innovaacom, a leading provider of medical education and training for healthcare professionals worldwide, today announced it is expanding its services into Asia in 2015. Innovaacom's focus on innovative solutions for this area of the world comes at a time when Asia's strengthening economy and leadership are rallying around consumer demand for better healthcare. A rapidly growing aging population and changing socio-economic environment is driving healthcare system improvements and advances in medicine in Asia. "We are excited to be a part of the reinvention of healthcare and renaissance of high science and emerging medicine in Asia," said Innovaacom CEO Ornella Vincenzino.
In particular, new patterns of healthcare needs are emerging in this area of the world which will soon house the world's largest aging population. According to the World Health Organization, Asia's elderly population will hit 922.7 million by 2050 challenging the healthcare system's ability to treat dementia and provide palliative care for senior patients. As the Asia economy grows more prosperous, area residents are also exhibiting diseases more commonly seen in developed nations. For instance, 191 million people in Asia-Pacific are now living with diabetes according to the International Diabetes Federation.
"The new demographics in Asia call for new medical technologies, new techniques, and new thinking," adds Vincenzino. Innovaacom is developing education programs and digital health solutions specific to the Asia market that support advanced systems and sharing of global medical knowledge on a regional and local level at a time when Asia is facing ongoing changes and challenges. The programs teach best clinical and communications practices based on the specific demographics and physiology of patients in the Asia area.
While Asia is overflowing with great scientific research today, communicating its value isn't always easy especially when the expectation is that it be done in medical English. Innovaacom understands the special challenges this presents and offers innovative communications strategies for this area of the world to share the impact of its contributions. Innovaacom is a global company that provides medical education and training for physicians and pharmacists around the world. To date, Innovaacom has collaborated with industry leaders to train more than 8,000 physicians and pharmacists in Europe, Latin America, Africa, China and the Middle East in medical communications and clinical best practices.
Innovaacom programs will support the dissemination of new research that is flooding out of Asia with communications strategies that allow for maximum sharing of high science and aim to standardize the quality of care across the region. For more information, write info@innovaacom.com or visit http://www.innovaacom.com.
About Innovaacom
Founded in 2007, Innovaacom is a global agency providing medical education and training for healthcare professionals worldwide that applies globally and empowers locally. Innovaacom courses combine science with leadership and communications skills training that helps translate the latest scientific and medical innovation into real clinical practice. Program design and delivery includes CME and non-CME training programs for physicians and community pharmacists that enhance the quality of scientific exchange to advance science and medicine.