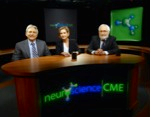 Bethesda, Maryland (PRWEB) March 24, 2015
CME Outfitters (CMEO), a leading accredited provider in continuing medical education, announces its three-part online neuroscienceCME Bipolar Depression Case Series:

All physicians, physician assistants, nurses, nurse practitioners, pharmacists, and other health care professionals with an interest in bipolar disorder are encouraged to participate. In these cases, faculty experts Charles B. Nemeroff, MD, PhD, Terence A. Ketter, MD, and Natalie L. Rasgon, MD, PhD utilize case-based education to offer clinicians optimal, real-world context needed to combine the latest science with best practice to improve outcomes in patients with bipolar depression.
Bipolar depression is one of the world's 10 most disabling conditions, taking away years of healthy functioning from individuals who have the illness. Individuals with bipolar depression are at high risk for comorbid medical disorders such as metabolic or cardiovascular disorders, and unfortunately, several of the psychotropic medications that are used to treat bipolar disorder may increase the risk of developing certain medical illnesses. Careful, ongoing assessment, monitoring, and individualized treatment-selection can help reduce some of the risk factors and improve quality of life for these patients. On December 15, 2014, a neuroscienceCME Live and On Demand featured a series of cases on bipolar depression. To meet the learning preferences of busy clinicians, the activity has been divided into three short modules, each featuring a patient case that demonstrates the complex challenges presented by patients with bipolar depression.
Click on the activity titles above for more information about the faculty, financial support, credit information, disclosures, and to participate in the series.
About CME Outfitters, LLC
CME Outfitters develops and distributes live, recorded and web-based, outcomes- and evidence-based educational activities to thousands of clinicians each year and offers expert accreditation and outcome services for non-accredited organizations. CME Outfitters focuses on delivering education to specialty audiences, with strong expertise in neuroscience, inflammatory, infectious, and autoimmune diseases, and cardiovascular disease. For a complete list of certified activities and more information, visit http://www.cmeoutfitters.com or call 877.CME.PROS (877.263.7767).
About neuroscienceCME
neuroscienceCME.com is an award-winning web portal serving clinicians, educators, and researchers in the neurosciences. Launched in October 2006, neuroscienceCME.com fills an identified gap in online resources for professionals around the world who practice in areas related to psychiatry, sleep disorders, pain, and neurology. The site's primary mission is to be a central forum for accessing, debating, synthesizing, and implementing the latest findings and best practices in the neurosciences. Visit http://www.neuroscienceCME.com to learn more.
"CME Outfitters … Improving Clinical Behavior … One Change at a Time"
###