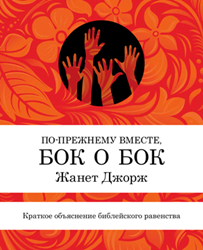 Minneapolis, Minnesota (PRWEB) March 30, 2015
Christians for Biblical Equality (CBE) is pleased to announce the completion of a Russian translation of its book, "Still Side by Side." Written by Janet George and published by CBE in 2009, "Still Side by Side" introduces the biblical case for the full equality of men and women in leadership in the church and home. To date, "Still Side by Side" has been translated into six languages—Swahili, Haitian Creole, Spanish, Arabic, Nepali, and Khmer.
This is the second resource CBE has translated into Russian, the first being CBE's statement "Men, Women, and Biblical Equality," available for free on CBE's website. The Russian version of "Still Side by Side" will be distributed in Russia, Eastern Europe, and Russian-speaking communities around the world.
"Translations of 'Still Side by Side' are a crucial component of CBE's outreach efforts, especially outside of the United States," said Liz Beyer, CBE's bookstore coordinator, who oversees translation projects. "'Still Side by Side' is short, accessible to those without extensive theological education, and confronts many of the patriarchal assumptions about the Bible and the Christian life. By distributing this resource, we begin the conversation about the Bible's view of gender, and we lay the groundwork for further education on the Bible's egalitarian message.."
Russian is the first of six translations of "Still Side by Side," funded by a grant from the Crowell Trust. A Chinese translation is nearing completion, and German, French, Amharic, and Hindi are scheduled to be completed in 2015. CBE's translation work reflects the growth of its work outside of the United States and its ever-expanding partnerships in Asia, Africa, and Europe.
In its effort to advance a biblical foundation for gift-based rather than gender-based ministry and service, CBE sponsors annual conferences, facilitates local chapters, hosts an online bookstore, and publishes two award-winning journals. For more information, visit http://www.cbeinternational.org.