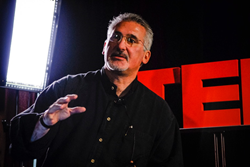 I think Boomers get disillusioned with the youth-oriented fitness business and how it doesn't serve them properly.
Sacramento, Calif. (PRWEB) March 26, 2015
The 55+ market is the largest and fastest-growing segment of the population, and the most underserved by the fitness industry.
"The mainstream fitness business is still very youth-focused; it has been for many years," said Martin Pazzani, CEO of Act!vate Brain & Body, speaking to host Frank Samson on The Aging Boomers podcast. Pazzani blames this youth-obsessed gym culture for turning off older people to mainstream gyms.
He wants to counter that trend with Act!vate Brain & Body – an innovative approach to fitness that combines brain exercise, physical exercise, stress reduction and diet to create optimum health in people age 50+, with an emphasis on optimum brain health.
Pazzani got the idea for Activate Brain & Body while he was chief marketing officer of Bally Total Fitness / Crunch.
"Our market research on consumer behaviors showed that membership in organized fitness plummets at about age 50, dropping down to 10 percent from around 30 percent.
"The mainstream fitness business thinks that's just the way it is because people slow down and don't want to work out in a fitness club anymore," Pazzani said.
"But . . . I think they (Boomers) get disillusioned with the youth-oriented fitness business and how it doesn't serve them properly," Pazzani said. "People above 50 are looking for a different and better way to get fit, even more than ever, and not finding easy solutions in the traditional fitness business."
Pazzani said Act!vate's brain-body approach stems from research done by Salk Institute scientist Fred Gage, who discovered that the brain can grow new brain cells at any age. The creation of new brain cells is called neurogenesis, and physical exercise stimulates neurogenesis.
"BDNF is a hormone in your blood that is triggered by exercise," Pazzani said. "It stands for brain-derived neurotropic factor. The more BDNF you build, the greater the chance you're going to create new brain cells via neurogenesis. Certain types of duration and intensity of exercise will maximize the creation of BDNF.
"There are techniques we're experimenting with – and this is very leading edge – to maximize the creation of BDNF through physical exercise. The theory is, if you do some of these things, you can activate your brain and activate your body at the same time. More important is the hope that building new brain cells through our techniques will slow the pace of age-related cognitive and physical decline. That's why our motto is 'Age!Younger.'"
"What about lifting weights?" Samson asked. "I'm talking free weights. At age 50, is that a good thing to be doing?"
"It's a complex question," Pazzani said. "The free weights and [weightlifting] mentality started out decades ago. Pumping Iron. Arnold Schwarzenegger. Muscle Beach. That's what people have in their heads when they think of traditional gyms. I did a lot of research . . . and learned it's possible the Arnold Schwarzenegger image had done more to send people away from the fitness business than to attract them to it. It's counter-intuitive, but a lot of people felt they had to get fit before they joined a gym or they'd be embarrassed, so they stayed away.
"Resistance training is very important at any age. It makes you much more resilient to falls and injuries. But it doesn't have to be that Pumping Iron kind of weightlifting. There are new kinds of equipment and techniques that are safer for older bodies and provide nearly the same kind of intense workout as lifting free weights."
Act!vate's focus, he said, is on functional exercises, exercises that replicate movements used in everyday life that help people improve balance, agility and strength for everyday life. Other exercises will require brain and body involvement, like the CyberCycle, Pazzani's favorite, which features a video screen requiring riders to steer and react to what's happening on the screen.
All Act!vate coaches and trainers will be trained and certified by the Functional Aging Institute, which has certifications to teach people how to train people age 50+. The Institute's founders, Cody Sipe and Dan Ritchie, two Ph.Ds. in kinesiology, serve on Act!vate's board.
Act!vate Brain & Body will be rolled out in two phases. Phase one, remote, live coaching, will begin this summer, with coaches and clients consulting over a Skype-like interface. After conducting a personal assessment, coaches will prescribe workout plans designed to meet each client's current health, fitness level and goals. All clients will wear activity monitors, and all workouts will be measured and tracked by Activate coaches.
"We call it a fitness club in the cloud" Pazzani said. The second phase will be the construction of brick and mortar gyms designed by our gerontologist architect especially for an older population.
Asked by Samson what exercises he could recommend for listeners, Pazzani said, "Everybody has a different body and situation, but the most general advice I can give is get off the couch, turn off the television, and walk. That's the most basic thing to do. If most of America would walk at a brisk pace for 20 to 30 minutes a day, the general effect on the population, and the savings across the healthcare system, would be profound."
To listen to the full interview,click here.
For more information on Act!vate Brain & Body, visit Act!vate Brain & Body on Facebook.
The Aging Boomers podcast was developed by Frank Samson, founder of Senior Care Authority, a senior residential care placement company. The podcast is recorded every Monday and Friday, with Samson interviewing experts on many of the issues facing boomers, their parents and an aging population. the many issues facing boomers, their parents and an aging population today. The podcast can be heard on iTunes, Boomeon, iHeartRadio, Spreaker and The Aging Boomers website, as well as an app for iPhone/Pads and Android phones/tablets.