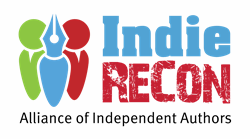 "These competitions are just one of the many ways in which IndieReCon 2015 will celebrate and educate author-publishers, as well as connect them to readers." Orna Ross, Director Alliance of Independent Authors
LONDON (PRWEB UK) 28 March 2015
Non-profit professional association the Alliance of Independent Authors (ALLi) has unveiled three competitions open to all indie authors, artists, designers, and schools and libraries in the run up to the IndieReCon 2015, the free online author conference.
A great front cover is often what decides the hesitant reader in an author's favour. Likewise, the carefully chosen words in the blurb on the back cover can be the clincher. Getting those elements right can be almost as tough as writing the book in the first place.
ALLi Director Orna Ross, who took back the rights to her own traditionally published novels three years ago, is very aware of the satisfaction gained by any writer through self-publishing. "We want to capture and award the amazingly creative indie authors, artists and designers out there who are consistently raising the bar in self-publishing," says Ross.
"These competitions are just one of the many ways in which IndieReCon 2015 will celebrate and educate author-publishers, as well as connect them to all other strands of the publishing industry, and to that most important person of all: the reader."
Schools and libraries can get in on the indie act also, with a chance to win a KOBO e-reader filled with great indie books from authors around the world. Authors are invited to submit their work for inclusion.
Head to the competition site for full details on how to enter, as well as a peek at first entries in.
IndieReCon was created in 2013 by indie-inspired authors Ali Cross and SR Johannes. The 2014 free, global, online conference attracted over 25,000 attendees. IndieReCon 2015, with Gold Sponsor Ingram Spark, is aiming for 50,000 and runs from 15 – 17th April, during Book and Screen Week of the London Book Fair. The event culminates in the first ever, live-streamed London Book Fair Indie Author Fringe Festival in Foyles Bookshop, Charing Cross Road.