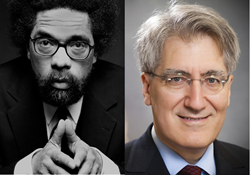 GRAND RAPIDS, Mich. (PRWEB) March 26, 2015
Media Note: Cornel West and Robert P. George will be available to the media for 30 minutes on April 2 at 5 p.m. in the Gordon Gallery in DeVos Building E on Grand Valley's downtown campus, 401 W. Fulton Street, Grand Rapids, MI 49504. High resolution photos of West and George are available for media use via this Dropbox link.
Rich versus poor, Republican versus Democrat, or black versus white, controversy and cultural experiences divide the American public along dozens of socioeconomic, political, ethnic and racial lines. With these stark contrasts and divisions in mind, the Hauenstein Center for Presidential Studies at Grand Valley State University is proud to announce a discussion between two cultural and academic giants, Cornel West and Robert P. George, at "The Culture Wars: A Workable Armistice?" on April 2.
West, a nationally recognized progressive political philsopher and race theorist who has been featured on The Colbert Report, Real Time with Bill Maher, CNN, and the Late Show with David Letterman, will present alongside George, a conservative Catholic philsopher of jurisprudence and natural law who was called America's "most influential conservative Christian thinker" by the New York Times.
"The Culture Wars: A Workable Armistice?"
American Conversations Season Finale
April 2 at 7 p.m.
L.V. Eberhard Center, Grand Valley Pew Campus
301 W. Fulton, Grand Rapids, MI 49504
Free and open to the public
RSVPs requested, capacity audience expected
Both West and George are professors at Princeton, but share little else in common. While it's easy to imagine these titans of academia and intellect clashing, West and George have managed to develop a friendship based on productive collaboration. Despite staggeringly different views on race, politics and government, they teach together, debate each other, and remain open to each others' best arguments.
Together, they will present a case study in the pursuit of common ground, showcasing how two extraordinarily brilliant thinkers of the modern age can disagree on nearly every core issue, but still learn from each other in their respective examinations.
In the Hauenstein Center's final American Conversations event of the season, West and George will discuss their productive friendship and how to promote the pursuit of common ground.
For more information, visit HauensteinCenter.org