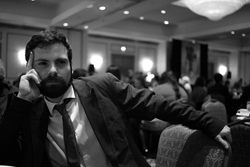 A well-conceived and beautifully filmed piece replete with superlative acting and a large measure of artistic integrity. A true gem
Sarasota, FL (PRWEB) March 27, 2015
The Sarasota Film Festival today announced the world premiere of 'Paradise, FL' as one of the festival's spotlight presentations. The House of John Productions film premiere will be held in the Sarasota Opera House on Saturday, April 11th at 4 pm.
Mark Famiglio, Sarasota Film Festival President, calls 'Paradise, FL': "A well-conceived and beautifully filmed piece replete with superlative acting and a large measure of artistic integrity. A true gem."
'Paradise, FL' tells the story of a struggling oysterman who finds himself fighting for the family he didn't know he needed while hiding from his personal demons behind an Oxycodone addiction. For more information, show times and tickets, please follow this link.
The film is directed by Ringling College alumnus Nick Morgulis and was written and produced by Tony Stopperan and cast by Adrian Stern Casting. Kristopher Higgins (Devil's Knot) stars as a husband and father caught between two women, his mistress Kelly, played by Lauren Sweetser (Winter's Bone) and his wife Maggie, played by Heather Robb (Stake Land), each a mother of one his children. Jon-Michael Miller (MTV's One Bad Choice) makes his feature debut as Tommy, who moves in to help Sean put his family together after Maggie's suicide attempt. With the help of Koko, played by Mary Mara (Ray Donovan), Tommy must overcome past demons and current addictions to keep his newfound family from falling apart.
Director Nick Morgulis said "I am thrilled to premiere "Paradise, FL" at the 2015 Sarasota Film Festival. While a student at nearby Ringling College, I hoped to one day show a feature film there. I am grateful to this community that so wholeheartedly supports and embraces art and creativity in all forms and to the Sarasota Film Festival for allowing us an incredible opportunity to share our film with the world on such a prestigious stage. I'm incredibly proud to spotlight not only our efforts on this picture, but the possibilities of filmmaking on the Gulf Coast."
"There couldn't be a more appropriate film festival than Sarasota," says Producer Tony Stopperan of the World Premiere at SFF. "The Film Festival has been a champion of it, and this community has supported this project from its onset, throughout production and post. The opportunity to present it at the Sarasota Film Festival is a homecoming for 'Paradise, FL' and to play in a venue like the Opera House is an honor. We are very appreciative of the platform SFF has given to us."
The film's stars Kristopher Higgins and Jon-Michael Miller will be in attendance at the World Premiere on April 11th, 2015, as well as Morgulis and Stopperan, and producers Victor Young, May Todd, Shaun Greenspan and Edward J. Fagan. Tickets are available at this link.
'Paradise, FL' is a House of John Production in association with Media & Management Global and TriForce Pictures. Production is sponsored by BMO Private Bank and Ringling College of Art and Design. Visit http://www.paradiseflmovie.com for more information on the film.
"When you have nothing left to lose, you might find something worth fighting for."