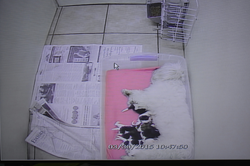 ...private areas [within the nursery] have radiant floor heating, as well as fresh air circulating at the perfect humidity to foster a welcoming, calm environment for the new puppies.
Charlestown, RI (PRWEB) March 31, 2015
Most people seeking to purchase a new puppy want to make sure their dog is coming from a reputable breeder. With 30 years of dog-breeding experience, Royal Flush Havanese believes strongly in the importance of maintaining transparency between the breeder, their practices, and the new owner. In practice with this belief, Royal Flush Havanese is proud to announce their new, state-of-the-art puppy nursery. Through the development of this nursery, Royal Flush Havanese remains steadfast in their credence that new puppies must be monitored under very strict environments, with the understanding that even the most responsible breeders have to set limits as to what areas visitors can enter, and how much interaction the new owners can have with their puppy before taking him/her home.
Royal Flush Havanese's new puppy nursery is fitted with top of the line equipment and materials to keep all puppies happy and healthy. All puppies at Royal Flush Havanese are birthed in this nursery, where each Havanese mom has their own private space where they can feel safe with their new puppies. (Domestic dogs, just like wolves, seek out private areas to give birth.) These private areas have radiant floor heating, as well as fresh air circulating at the perfect humidity to foster a welcoming, calm environment for the new puppies. Newborn puppies need to be kept in a sterile environment while their immune systems are still developing full resistance. All surfaces within the nursery are built with anti-microbial materials to minimize the growth of potentially dangerous microbes. Only Royal Flush Havanese staff are allowed to enter and exit the nursery, where they spend time socializing the puppies while also working to maintain optimal conditions for their well-being. All litters are monitored 24 hours a day with video surveillance, and everything within the nursery is steam-cleaned at least once a day, on top of disinfecting.
Royal Flush Havanese has over 30 years of experience working with newborn puppies, and as a result, has been able to develop the most comprehensive nursery possible. Although well-intentioned perspective owners may wish to meet their puppy before 8 weeks of age, this goes against company policy. Any person or animal entering into an area where puppies are being raised is a potential carrier of a virus or bacteria that could infect either the mom or any of her puppies. Royal Flush Havanese asks readers to think of their nursery as akin to a maternity ward– no mother would want strangers walking in and handling their babies. Also like a maternity ward, the new puppy nursery must limit the exposure of newborns to outsiders in order to best protect the health of the puppies.
Through this article, Royal Flush Havanese wishes to better inform readers of their policies and practices regarding young litters of puppies, and share the impressive improvements made to their business. For more information on puppy care and health, check out the Royal Flush Havanese website. Awarded a Certificate of No Complaints and rated A+ for their outstanding dedication to honesty in the business place, customer satisfaction, and ethical policies and procedures by the Better Business Bureau, Royal Flush Havanese is dedicated to producing the finest Havanese puppies for sale and providing outstanding service in their care. The only dog-breeder in the Ocean State to be accredited by the BBB, Royal Flush Havanese has also received sterling reviews from their numerous delighted clients. "Like" the Royal Flush Havanese Facebook page today to show your support.