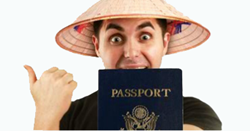 (PRWEB) March 30, 2015
As travel company Vietsmile Travel increasingly enters the outdoor markets, they are making efforts to meet the demands of all clients with a variety of services, including airport-fast-track and car-pick-up service.
Vietnamvisa.net, operated by Vietsmile Travel JSC., is a commercial website supplying Vietnam visas for inbound tourists. To get a visa approval letter, people just access the website and follow simple steps.
Firstly, people must fill in the application form with the correct details such as a full name, date of birth, passport number and arrival date. Secondly, applicants must process their payments online. Alternatively, they can choose to pay later.
It often takes 2 working days to get a visa letter. In urgent cases, clients are advised to use urgent services. Indeed, they are able to get visas within 2 hours, 4 hours, or 1 working day.
About extra services
People who enter Vietnam with a visa approval letter can apply for airport-fast-track service. Passengers will have somebody pick them up at the landing visa gate. After collecting visa approval letters, passports, and stamping fees, they will help passenger process a visa quickly. The fast track service is highly recommended to businessmen, pregnant women, infants, disable people, and group travel. The service is applied at 3 international airports: Tan Son Nhat (Ho Chi Minh City), Noi Bai (Hanoi Capital), and Danang (Danang City). A passport must be valid at least 6 months from arrival date.
Apart from the fast-track service, people also can book a car-pick-up service. Vietnamvisa.net introduces the comfortable modern cars, which are able to make tourists experience an interesting and safe trip to their hotel.
About Vietnamvisa.net
Vietnamvisa.net is one of the leading sites providing online visa service for international citizens who want to visit Vietnam. Indeed, the company has been serving more than 38,000 applicants and generating over 2,000 hits per day. Visa on arrival is now more and more popular among international travelers. This helps people get a visa in the fastest and easiest way. People can visit Vietnamvisa.net to get more details and apply for a Vietnam visa.