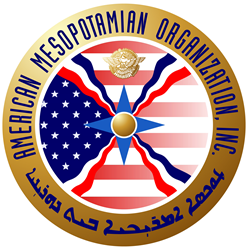 MECHRIC members would like to thank the people and the nation of France for their leadership, support and advocacy on behalf of Assyrians, Yezidis and other ethnic minorities of Iraq and Syria
Los Angeles, California (PRWEB) March 30, 2015
Called into emergency session by the nation of France, the Security Council overwhelmingly voiced its support for an agenda of international assistance on behalf of Iraq's embattled religious and ethnic minorities. (1)
"We have called on the UN and the Security Council to pursue aggressive steps to protect all the ethno-religious minorities in the Nineveh Plain, the Sinjar regions in Iraq and Khabour in Syria," said Mr. David William Lazar, chairman of the AMO
"Notably," said Mr. Lazar, "the members of MECHRIC have petitioned the UN Security Council to immediately adopt our five point plan of action to protect Assyrians, Yezidis and other embattled minorities in Iraq and Syria." These steps include the following:
1. The swift establishment of interim safe-zones in the Nineveh Plain of Iraq, the Sinjar region of Iraq and the Khabour of Syria.
2. The immediate training, equipping and financially supporting of independent indigenous security forces such as the Nineveh Plain Protection Units (NPU) in Northern Iraq and the Khabour region of Syria.
3. The deployment of these independent indigenous forces into areas under threat from ISIS as well as to the frontlines in the fight against ISIS.
4. Support of fighting strength and operational capabilities of these indigenous forces through aggressive use of airpower and supportive, coordinated intelligence.
5. The deployment of UN peacekeepers to the Nineveh Plain and the Sinjar region, following ISIS' eventual defeat, to provide the necessary stability and security for the constituting of the Nineveh Plain Province, pursuant to a January 2014 Government of Iraq Cabinet-level decision, for the ethnic and religious minorities of the area
"The members of MECHRIC," said Mr. Lazar, "would like to thank the people and the nation of France for their leadership, support and advocacy on behalf of Assyrians, Yezidis and other ethnic minorities of Iraq and Syria. We remain confident that with France's guidance and resulting international action, the situation in Iraq can be corrected, ISIS can be defeated, and Assyrians, Yezidis and other minorities can be masters of their future."
MECHRIC members include the Assyrian American National Federation, the American Mesopotamian Organization (AMO), the Council of Syriac Organizations, the Chaldean Syriac Assyrian Popular Council, Coptic Solidarity International, the Yezidi Human Rights Organization International, the Melkite Committee and the American Maronite Union. MECHRIC can be contacted at http://www.mechric.org.
About the American Mesopotamian Organization
The American Mesopotamian Organization believes that the Assyrian American community can be instrumental in bringing about change to US policy towards the Assyrians of the Middle East. We strive to be part of this change and part of the solution in defending Assyrian political and human rights throughout the Near East. While we will represent the collective Assyrian American viewpoint on matters of public policy, we will also serve as liaison between the community and their elected leaders. For more information, please visit http://www.americanmesopotamian.org.
(1) Informal comments to the media by H.E. Mr. Laurent Fabius, Minister of Foreign Affairs of France and President of the Security Council for the month of March 2015 on the victims of attacks and abuses on ethnic or religious grounds in the Middle East, Yemen, Syria and Iran