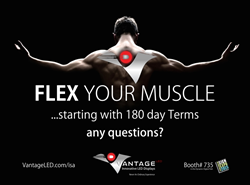 ...strengthening their dealer partner relationships is a boundless effort for Vantage.
Ontario, CA (PRWEB) March 31, 2015
Vantage LED is notorious for implementing the most innovative solutions that cultivate the strongest partnerships and provide the highest quality products in the industry. They have a reputation for bringing game-changers to the ISA Sign Expo, year after year. This past year, Vantage focused on dealer partner relationships, with 2014 being "the year of the dealer partner." However, strengthening their dealer partner relationships is a boundless effort for Vantage. They plan to further strengthen those partnerships by catering to their dealers, with a new product line, Vantage FLEX, geared to suit their dealers' needs and grow their business.
Flexibility is the key to making a great thing even better. The central idea behind the new product, FLEX, is to provide flexibility to the dealer that enables them to provide their clients with the most customizable product on the market. With custom-tailored incentives, Vantage has configured the best possible plan that completely accommodates their dealer partners, starting with 180 day terms. Of course, much more will be revealed at the ISA Sign Expo on April 9th.
"We stand shoulder-to-shoulder with our dealer partners to build their business and support their brand," stated Paul Martin, Chief Marketing Officer of Vantage LED. "We want our dealer partners to be completely comfortable with the entire Vantage experience, from our people and product, to terms and delivery. We like our dealer partners. We appreciate them, and we're here, as a partner, to help grow their business."
Vantage takes pride in the fact that they are not just a product source, but a resource for their dealer partners. The symbiotic relationship behind a partnership is something that Vantage takes seriously. It's not only about their own business needs, but instead, it is about catering to their partners and empowering their business.
The year of the dealer was all about listening to their dealers and getting to know what tools they needed to succeed. They listened, and FLEX is the answer.
Visit booth #735 in the Dynamic Digital Park at the ISA Sign Expo in Las Vegas, NV, April 9-11, to learn more about the product and meet the innovative team behind Vantage LED.
About Vantage LED:
In an industry becoming stagnant, Vantage LED, a Premier U.S. Manufacturer of innovative outdoor LED Displays, is forging ahead, providing revolutionary digital solutions, with innovative hardware and intuitive software. Their software, SM Infinity™, features professional content creation, with internet and mobile access, all backed by real human support, strong resources, and smart business. Vantage LED invites you to discover the flexibility they bring to the LED industry.