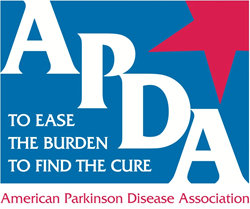 In April alone nearly 5,000 individuals in this country will learn they have Parkinson's disease.
New York, New York (PRWEB) March 31, 2015
April is Parkinson's disease Awareness Month and the American Parkinson Disease Association (APDA) is proud to announce 30 Days, 30 Ways to Make a Difference. Visit apdaparkinson.org to learn about this month-long campaign that will offer a new action each day throughout April to make a lasting impact in the lives of those who battle this disease.
Every nine minutes there is a new diagnosis, which means that in April alone nearly 5,000 individuals in this country will learn they have Parkinson's disease. April is the perfect time to take action that can change these startling statistics and outcomes for the more than one million people in the United States coping with this neurological movement disorder.
Parkinson's disease is a chronic, progressive disease with no treatment, therapy, or drug to slow or halt its progression. For more than 50 years, the APDA has led the charge as the nation's largest grassroots organization serving the needs of those touched by Parkinson's.
Visit http://www.apdaparkinson.org every day in April to discover interactive ways to change lives such as sharing your own story or that of a loved one, learning ways to achieve the best quality of life in spite of a diagnosis, gain access to helpful resources, or make a critical donation to help fund APDA's dual purpose to Ease the Burden – Find the Cure.
Your action can bring hope and optimism to individuals and families touched by Parkinson's disease. Actions you can take right away:

Like APDA on Facebook https://www.facebook.com/APDA.INC
Twibbon Yourself – Show your support for APDA by adding the http://twibbon.com/Support/pdawareness-APDAtwibbon to your Facebook page.
Follow APDA on Twitter @apdaparkinsons
Thunderclap Campaign – Help APDA recognize Parkinson's Awareness Day on April 11, as the world commemorates the birthday of Dr. James Parkinson who first identified Parkinson's disease in 1817 when he published "An Essay on the Shaking Palsy." http://www.thunderclap.it/projects/23762-spread-pdawareness-with-apda
Participate in an APDA Optimism Walk near you. Join others who will collectively walk hundreds of miles this year to raise awareness of Parkinson's disease and fund APDA's mission to Ease the Burden – Find the Cure. The 2015 Optimism Walk campaign is open for registration and will take place in more than 25 locations including, Boston, New York, Seattle, San Antonio, Madison, Chicago, Omaha, Hartford, Nashville, Virginia Beach, Rhode Island, South Florida, Phoenix and dozens of others throughout the United States.
Walk with TEAM APDA on Saturday, April 25 at the Parkinson's Unity Walk(PUW 2015) in Central Park, NYC. PUW 2015 is a grassroots organization, established in 1994 through the dedicated efforts of patients, families, support groups, and friends who were affected by Parkinson's disease. Over the last nineteen years, the Unity Walk has grown from 200 participants at the first event to over to 10,000 participants at the 2014 Walk.
American Parkinson Disease Association (APDA) was founded in 1961 with the dual purpose to Ease the Burden - Find the Cure for Parkinson's disease. In that time, APDA has raised and invested more than $86 million to fund research, patient services and education, and elevate public awareness. As the country's largest Parkinson's grassroots organization, APDA is here to serve the more than one million Americans with Parkinson's disease and their families through a nationwide network of Chapters, Information and Referral (I&R) Centers, and support groups. APDA also funds Centers for Advanced Research and awards grants to fund the most promising research toward discovering the cause(s) and finding the cure for Parkinson's disease.