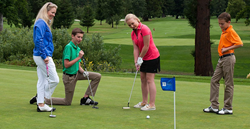 "PGA of America Launching Junior Golf Camps to Encourage Youths 7-17 Years of Age to Learn Golf"
Sacramento, CA (PRWEB) April 01, 2015
The PGA of America recently unveiled the initial launch of its PGA Junior Golf Camps. The camps, which are slated to begin operations this summer at 25+ nationwide locations, are part of the association's continued support of developing young golfers. All camps will be taught by PGA Members and are open to boys and girls between the ages of 7-17 and of all ability levels. Both full and half day camps will be offered.
"We are thrilled to launch this new initiative and provide an opportunity for youths to learn from our highly-competent PGA Members that are skilled at teaching the game. Through our propriety instruction curriculum, we are confident that junior campers will learn from some of the top instructors in the industry while also having a great time, in a safe and supportive environment," said Rick Murphy, Member of the PGA Board of Directors and Chairman of the PGA Youth Player Development committee.
The camps' curriculum is based upon its "PGA Progression Development Tract" which guarantees skill development in the game's fundamental areas including full swing, putting and chipping. Additionally, the tract also places emphasis on the development of "life skills" such as good sportsmanship and embodying personal integrity both on and off the course.
"We have always strongly believed that the game of golf provides a highly unique platform for athletic development as well as character development. There is truly no other game where such an emphasis is placed on playing with integrity, manners, and something else. At our camps, we not only teach golf's traditions and techniques but most importantly we let kids be kids, so learning those traditions become a lot of fun," said Marc Haddad, Founder and CEO of PGA Junior Golf Camps.
Camps will be held at some of the country's top golf courses for junior golf development. A sampling of locations include TPC Piper Glen in Charlotte, North Carolina; Bear's Best Atlanta in Suwanee, Georgia; and TPC Harding Park in San Francisco, California. Camps pricing starts at $165 and early registration incentives are available through May 1st, 2015. For additional information or to register for summer camps,visit http://www.pgajuniorgolfcamps.com or call 888.PGA.PLAY (888.742.7529).
About PGA of America
The PGA of America is the world's largest sports organization, comprised of 28,000 men and women golf Professionals who are the recognized experts in teaching and growing the game. Founded in 1916, the PGA of America conducts premier spectator events,including the PGA Championship and Ryder Cup. The PGA of America and its Members are also dedicated to growing interest and participation in the game of golf. The Association elevates youth interest in the game through innovative programming including PGA Junior Golf Camps, PGA Junior League Golf and the Drive, Chip and Putt Championship. These fun and accessible youth programs were created for every junior, everywhere.
# # #