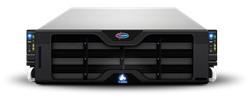 San Jose, CA (PRWEB) March 31, 2015
iXsystems, an industry leader in storage and servers driven by Open Source, today announced its TrueNAS Z20 hybrid storage array was named "Excellent" by industry research firm DCIG in the 2015-2016 DCIG Small and Midsize Enterprise Hybrid Storage Buyer's Guide.
The DCIG Buyer's Guide ranks, scores and contains data sheets for 22 different products from 9 different vendors. Products are scored and then ranked as "Best in Class", "Excellent", "Good", and "Basic" based on their score. The DCIG ranking is a measure of how well the features and capacities of each model compare to the other models evaluated in this particular Buyer's Guide. The higher the ranking, the greater the likelihood that the product contains the features needed.
"With the DCIG Small/Midsize Enterprise (SME) Hybrid Storage Buyer's Guide, organizations have access to a compelling resource that delivers real world information in a format that is easily understood and actionable," said Ken Clipperton, senior analyst of DCIG LLC. "I learned about iXsystems as a result of my work on an earlier Buyer's Guide. As the corporate sponsors of the thriving open source FreeNAS project, with programmers contributing to both FreeNAS and FreeBSD, they have quite evidently figured out how to bring the benefits of open source innovation to market in the form of the commercially supported TrueNAS series of hybrid storage arrays."
More than 90 different criteria were evaluated, weighted, scored, and then ranked for each product. Scoring and ranking tables enable end users to do "at-a-glance" comparisons between many different array models; and standardized one-page data sheets facilitate side-by-side comparisons--enabling organizations to quickly get to a short list of products that may meet their requirements.
After completing an initial questionnaire, participating companies' capabilities are assessed from the results and from information available in the public domain. Solutions are then evaluated and weighted after conversations with end users.
In comparison to its counterparts, the Z20 stands out in the following ways:

Ranked "Best-of-Class" in the hardware category
Ranked "Excellent" in the software category
Provides concurrent support for SAN and NAS
Supports multiple snapshot and storage capacity optimization methods
Other features that users will find useful on the TrueNAS appliances include:

5x-15x effective capacity from deduplication and compression
Easy data protection features that include automated snapshot policies for local and remote protection
Support for all VMware vSphere VAAI Block features evaluated by DCIG
Support for Microsoft ODX and Windows 2012 Server clustering
Integration with VMware snapshots for a stable resurrection point using ZFS snapshots
No separate licensing for advanced features such as thin provisioning and replication
"iXsystems is honored to have the TrueNAS Z20 ranked 'Excellent' amongst its peers in the Small to Medium Enterprise DCIG Buyer's Guide", said Brett Davis, Executive Vice-President of iXsystems. "This validates the tremendous efforts by our team to continue to make TrueNAS the best value in its class."
TrueNAS Unified Storage is hybrid or all-flash storage that combines power, flexibility, and simplicity with a modular, state-of-the-art hardware platform. TrueNAS offers high-availability, high-performance, feature-rich storage for a wide variety of enterprise business applications. It unifies SAN and NAS in one appliance and provides a wide variety of services and protocols on top of a best-in-breed file system that guarantees data stays pristine and secure. Whether it's used as storage for mission-critical VMs, a replication target for business continuity, video editing, general file serving, or any business-critical storage workload, TrueNAS provides the most reliable, powerful, and easy-to-manage solution for your critical data.
The DCIG Research Firm's 2015 Hybrid Storage Array Buyer's Guide is now available here.
Resources
TrueNAS: http://www.ixsystems.com/TrueNAS, sales(AT)ixsystems.com, or call 1-855-GREP-4-IX
About iXsystems, Inc.
iXsystems is an industry leader driven by Open Source technology, building enterprise storage and server solutions for the globe. All of our products are assembled, tested, and shipped from company headquarters in Silicon Valley, and technical support is provided in-house by the same engineers that build the systems. Thousands of companies, universities, and the U.S. Government have come to rely on iXsystems' customer-first commitment to excellence. iXsystems champions the cause of Open Source technology by dedicating extensive resources to multiple Open Source community projects, including FreeNAS®, PC-BSD®, FreeBSD®, and OpenZFS.