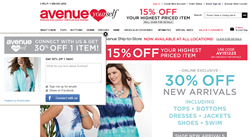 ShopSocially's referral marketing program has helped Avenue® leverage the passion of our customers to acquire quality referral traffic and earn incremental sales. - Kristen St. Peter, Director of E-Commerce for Avenue®
Mountain View, CA (PRWEB) March 31, 2015
Leading online marketing platform ShopSocially conducted a webinar on March 26th, 2015 with specialty retailer for plus size fashion product, Avenue® to present specific referral marketing strategies that have turned e-commerce website of Avenue® into a word-of-mouth powerhouse. In the webinar, Kristen St. Peter, Director of E-Commerce for Avenue®, and Samir Palnitkar, President at ShopSocially, showcased how these strategies have generated thousands of customer referrals for Avenue® on social media, resulting in a referral traffic which has converted at a rate as high as 28.48%. Webinar highlighted how Avenue® has earned a ROI of 11.05X using these referral marketing strategies.
"Recommendations from friends and family have always been the most trusted source of advertisements for marketers. Impact of customer referrals becomes more accentuated for a specialty retailer like Avenue® because these referrals become testimonials for our brand from real customers with very specific needs." commented Kristen St. Peter. "ShopSocially's referral marketing program has helped us employ effective strategies to generate brand endorsements on social media from real customers. ShopSocially has helped Avenue® leverage the passion of our customers to acquire quality referral traffic and earn incremental sales."
Marketers have always agreed that word-of-mouth recommendations from friends and family have a superlative influence on customers' purchase decisions. When this influence is delivered through the channel of social media network like Facebook, it further increases the effectiveness and reach of this influence. Avenue® used ShopSocially's referral marketing program to create thousands of social posts from real customers endorsing their brand and sharing their purchases. This turned customers into brand ambassadors. Referral traffic originating from these referral posts was of very high quality, demonstrating a sales conversion rate as high as 28.48% and leading to Avenue® realizing a ROI of 11.05X.
Avenue® employed below two specific strategies to achieve this success:
1. Avenue® used ShopSocially's Social Connect app to encourage website users to connect with their brand on Facebook. Every such connect resulted in a social post in which users shared their reason for loving Avenue® brand. These posts became social brand endorsements, attracting a valuable social referral traffic, which converted at an astonishing rate of 28.48%
2. Happy with the product and price; customer delight is at its highest when they complete the order. Avenue® leveraged this customer delight by using ShopSocially's Share-a-Purchase app and encouraged customers to share their purchases on social media. This resulted in generation of thousands of product referrals from real customers spreading viral on social media. Resulting referral traffic helped Avenue® to earn incremental referral sales at a rate of 14.88%
Besides the above specific strategies, Samir Palnitkar also showcased in the webinar additional referral marketing strategies that can help retailers generate 10X or more ROI. These strategies are:
A. Adding a Refer-a-Friend widget prominently on website with a reciprocal offer for referrer and referred friends. Website users can be presented immediate incentive for referring website to friends, and also an additional incentive when referred friends complete a purchase
B. Every email communication with customer can be an opportunity to generate customer referrals. By including an incentivized referral link in regular newsletter to existing customers, marketers can generate referrals and also drive repeat purchases. Seeking referrals 2-7 days post product delivery often results in higher customer response
"Customer passion is one of the best long-term assets that marketers can invest into today. Recommendations from happy and passionate customers are considered credible and can attract referral traffic with very high propensity to convert." said Samir Palnitkar. "With a well-thought social-media driven referral marketing program, marketers can channel customer passion into creating highly influential referrals that reach out far and wide through social media. This can result in exceptional business benefits, as seen with Avenue®'s referral marketing success."
About Avenue
Avenue® is a leader in the fashion industry for plus size clothing. Started in 1983, Avenue® has been committed to offer quality products of plus sizes. Over the years, Avenue® has carefully adjusted the proportions on petite, tall and extended size clothing to accommodate the needs of their entire customer base. Avenue® has continuously improved its fit formulas, resulting in a truer, more forgiving fit in all areas for their customers.
As a specialty retailer, Avenue® takes pride that each style they offer in market is on trend with the season. This commitment to fashion has allowed Avenue® to remain the destination of choice for plus size fashion. Besides the online e-commerce store, Avenue® has approximately 300 offline stores in market.
About ShopSocially
ShopSocially is a premium, social, referral and loyalty platform for marketers. Leading brands like Crabtree & Evelyn, Zazzle, Zipcar, ULTA, Beretta, Dressbarn etc. are using ShopSocially platform to enable referral marketing, visual commerce, customer loyalty, social login, social gamification and other such programs on their site.
ShopSocially has been consistently driving word-of-mouth promotions via social for 1000s of brands and delivering positive social ROI for their social media efforts.
ShopSocially has won several awards and has also been featured by Facebook in a Social Commerce case study. Launched in Oct 2010, ShopSocially is a privately held company in Mountain View, CA. For contact information, please visit
http://shopsocially.com/platform/request-a-demo.html.