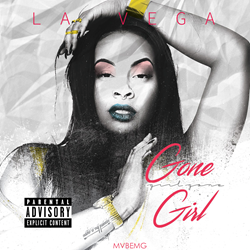 Stephanie "La ' Vega" Lavigat is the shining star of Bronx, New York's underground Hip Hop scene
Bronx, New York (PRWEB) March 31, 2015
Stephanie "La ' Vega" Lavigat is the shining star of Bronx, New York's underground Hip Hop scene. Her non-stop studio grind (Quad Studios), knock out hooks, and extensive music catalog, makes her one of the hardest working and more talented up-and-coming female musicians in the tristate area.
Her record label MVB Entertainment Music Group (MVBEMG) has just released the cover art for her 6th mixtape, titled "GoneGirl.GirlGone". The mixtape has a release date of May 5, 2015, and the cover artwork was designed by Kevin Scott.
Her 3rd music video "Nappy", directed by Taya Simmons, was just released on her new VEVO music video channel. The music video has been well received, and its getting a lot of attention because of the sensitive topic.
Her "GoneGirl.GirlGone" mixtape has seven tracks; "These B*tches Not Ready", "Kill'Em", "Bloody Murda","F*ck Love", "Deep in Thought", "Heart Ain't Here", and "Freed Raven".
The mixtape can be described in three words; unapologetic, sexy, and aggressive. La ' Vega's manager Abdel "Sosa" Russell, says this mixtape could very well be her "coming out" project.
He also said the overall theme of the mixtape was that of a good girl, who's gone bad. The iTunes copy will be accompanied by a booklet with some never before seen pictures, from her recent photo shoot with celebrity Hip Hop photographer, Felix Natal Jr.