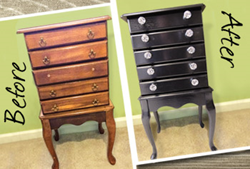 To support the upcycling effort, Woodcraft added an Upcycling Resource Center to our woodcraft.com website.
PARKERSBURG, W. VA. (PRWEB) March 31, 2015
Upcycling is not just for craft projects – it offers lots of possibilities to make changes in your home décor, especially cabinets and furniture that will save money and reduce your contribution to the local landfill. Woodcraft can help you with upcycling ideas, products and advice.
For the past year, Woodcraft retail stores have hosted upcycling demonstrations on the third Saturday of the month to help customers discover the potential for upcycling in their home projects, and the company has added online resources for the public to access.
"To support the upcycling effort, Woodcraft added an Upcycling Resource Center to our Woodcraft.com website (http://www.woodcraft.com/media/upcycling.aspx) to introduce viewers to upcycling and announce demo topics and dates," Vince Grlovich, vice president for sales and marketing, said. "Viewers can also watch a segment of Lifetime's Designing Spaces where Woodcraft product development manager Kent Harpool shows host Aliane Baquerot how to create a shelf from a wooden pallet."
Both Woodcraft's Pinterest page (http://www.pinterest.com/woodcraftsupply/upcycling) and Instagram gallery (http://instagram.com/woodcraftgallery) include upcycling ideas, and the blog, Woodworking Adventures (http//:blog.woodcraft.com) has featured upcycling several times.
Inspired by the upcycling trend, many Woodcraft employees have completed projects, including marketing manager Lori Haught who transformed the 1980s Jewelry Armoire shown here into a more stylish, modern piece for her bedroom. A look at some of the products she used may help readers discover upcycling projects that will save time and money in their own homes.
Jewelry Armoire Makeover
Lori gave the armoire a new coat of paint, new silver/glass pulls, and flocking on the drawer interiors. Readers may view the entire process by visiting "Woodworking Adventures" at http://blog.woodcraft.com and searching for "The Jewelry Armoire Makeover."
Makeover Products and Techniques
An Irwin Marples Blue Chip Chisel was used for the disassembly that was required to add new hardware and make other changes to Lori's armoire.
To remove the residue from old finishes and polish, Lori chose Norton Soft Touch Medium 120-180 Grit Sanding Sponges for the contour detailed areas and Preppin Weapon Sanding Blocks, loaded with Mirka Abranet 2-3/4" x 8" Sanding Sheets, for flat areas. Once the sanding was finished, all the pieces were cleaned with General Finishes Furniture Cleaner using handy Star Wipers rags.
Three coats of General Finishes Black Gel Stain were applied to the armoire. Although each coat was allowed to dry overnight because of other commitments, the actual time required between coats is two to four hours. (Gel stains come in 12 other colors including the popular java.) Two coats of General Finishes High Performance Satin Water-Based Top Coat were applied next.
To prep for the new hardware, Golden Oak Water-Base Famowood Filler was used to plug screw holes. More chiseling was required before a pair of 1-1/2" X 1-1/8" Satin Nickel Stop Hinges could be installed.
Before reflocking the drawers, Bulls Eye Sealcoat Universal Sanding Sealer was applied to the interior of the drawers and the dividers. Wearing an Anti Microbial Dust Mask and 6 mil Medium Powder Free Nitrile Gloves, Lori applied Light Blue Donjer Flocking, using a Donjer Mini Flocker.
Reassembly of the armoire required System Three 5-Minute Epoxy and a Bessey K-Body REVO Jr. 24" Single Parallel Clamp.
Other Popular Upcycling Products
Soy-Gel is a 100 percent biodegradable, virtually odorless coating remover. Restor-A-Finish can be used to clean and restore the luster to a clear finish, as well as hide minor issues like scratches. It will also remove water rings.
Milk Paint is a popular coating, especially for furniture. General Finishes Milk Paint is premixed and available in 28 colors that can be mixed to make custom colors and lend themselves to decorative effects such as distressing and antiquing. Old Fashioned Milk Paint is a powder that comes in 20 colors and is good for use on porous surfaces such as bare wood and raw masonry. A special effect Old Fashioned Milk Paint Crackle Finish provides a weathered look.
The portable QuikBENCH™ is a lightweight (23-lb.), easy to set up workbench capable of holding up to 300 lbs. Convert two QuikBENCHES to sawhorses, and together they will hold up to 2,000 lbs. Two or more benches can be connected together to form a workstation. Each bench has a 24"-wide by 3-1/2" opening vise and a 15-amp, circuit protected, three-outlet power strip, plus four plastic bench dogs
For more information about Woodcraft, please contact the store nearest you, visit http://www.woodcraft.com or call (800) 535-4482. To learn about Woodcraft franchise opportunities, visit http://www.woodcraftfranchise.com or email woodcraftfranchise(at)woodcraft(dot)com.