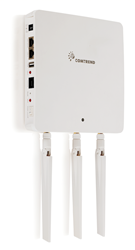 Irvine, CA (PRWEB) April 07, 2015
Comtrend, a global supplier of advanced networking solutions, announced the release of its first AC1750 Access Point, the WAP-PC1750W. The WAP-PC1750W is the ideal solution for improving wireless in the home and office without the need of replacing an existing router. For homes where the router cannot be centrally located and/or dead spots occur, this is a high-performance and easy solution. This next generation AC1750 Access Point has all of the benefits of an extender, but also offers flexible installation options and comprehensive networking features.
The WAP-PC1750W offers the same ease of setup as an extender; adding high-performance wireless coverage to the home or office is as simple as plug-n-play. This product features EasySetup, only requiring you to plug in a power source and an Ethernet cable to setup. In addition, it has an integrated 802.3at Power over Ethernet Plus (PoE+) capability. This allows the device to be powered by an Ethernet cable to simultaneously receive data and power so that you can deploy this device wherever is best, such as on the wall or ceiling. It also works seamlessly with powerline adapters so that it can be easily deployed in hard-to-wire locations.
The WAP-PC1750W offers superior coverage with a high-powered 560mW wireless feature. It boasts a PHY rate of up to 1750Mbps with next generation 802.11ac wireless technology for the ultimate wireless experience. In the case that wired connectivity is needed, the WAP-PC1750W is also equipped with a Gigabit Ethernet pass-through to preserve an additional port for Internet-enabled devices to be connected.
Product Manager of Comtrend North America, Richard Castreje, states, "Comtrend wanted to offer a product that was specifically designed for the consumer who wanted a high-end, high-performance solution to their wireless problems. At the same time, we wanted a product that required zero configuration so that it would be ready-to-go out of the box. We have achieved that goal and are very excited to present this product."
With comprehensive networking features such as the multiple SSID feature, the WAP-PC1750W can broadcast multiple wireless networks with different logins. This means that a business can assign one login to employees and another to their guests so that guests cannot access sensitive information. In addition, wireless isolation and an Internal Radius Server add an extra level of authentication and security management.
With a simple EasySetup feature, next generation wireless speeds, and comprehensive networking features, the WAP-PC1750W is the better option to extend wireless coverage to any home or office.
Availability
The WAP-PC1750W currently has samples available. To order samples please speak to your sales representative or email NA.Sales(at)Comtrend.com.
About Comtrend
Since 1990, Comtrend has become one of the leading global providers of advanced networking solutions. Totaling more than 25 million CPE deployed globally, Comtrend is the technology partner of choice for carriers worldwide. Comtrend designs, manufactures, and markets a wide range of networking equipment consisting of bonded A/VDSL2, as well as home and office networking technologies. Bringing value to consumers through our service provider customers across the world, Comtrend is committed to industry standards, interoperability and market-leading performance. The company has its North American headquarters in Irvine, California. For more information please visit http://www.comtrend.com.