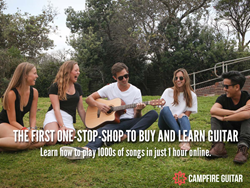 "Amazing concept! Campfire Guitar makes it possible for you to learn guitar easily.' Maroon 5 Producer, Matt Wallace
Los Angeles, California (PRWEB) April 14, 2015
Millions of people each year enter the beginner guitar market in search of an instrument and lessons. Self-purchasers, parents and gift-givers describe the process of buying the right guitar to learn on and finding an instructor or online program 'confusing', 'hard to navigate' and 'expensive.' Campfire Guitar solves these problems by making buying simple and learning fun and quick with their unique lesson content.
The E-commerce startup is the first one-stop-shop to buy and learn guitar online and has proven to be a hit with online savvy millennials who love the brand's user experience, lifestyle image and song catalog. Campfire Guitar has also received positive reviews from the music industry:
Maroon 5 and Faith No More producer, Matt Wallace remarks, "I'm impressed – the concept is simple and perfectly executed. This guitar is amazingly pro for the price! With Campfire Guitar's lessons anyone can go online and within a couple of hours play songs on guitar."
Sheppard and The Veronicas producer Stuart Stuart comments, "Campfire Guitar has nailed it! The secret is out – their 1 hour of lesson content really is all any beginner needs to learn how to play popular songs on guitar. The guitar is awesome too. I'm impressed by the studio quality sound, cool design and feel of the instrument."
Founder Danny Procopis is the former lead guitarist of Australian rock band Small Mercies (Sony Music). Procopis explains, "It's a common misconception that you have to be born with special musical talent to play the guitar and that it's time consuming and difficult to learn. Guitar is not only the most popular instrument worldwide it's also the easiest to learn. Our program is suitable for complete beginners 8 years and older. We give students everything they need to learn to play 1000s of songs with just one hour of content. Our customers get so excited, they get in touch and say 'I can't believe it, I'm actually playing the guitar. I never thought I would be able to do this!' That's the best part of what we do – we're helping people reach a goal and with each customer we're bringing more music into the world."
Campfire Guitar manufacture their own guitars, bypass traditional retail channels, and provide instruction online. Customers get a beautiful, studio quality guitar shipped to their door with lifetime access to premium online guitar lessons for beginners. This business model means the company can sell a high-quality instrument at a fraction of the price of comparable guitars on the market.
The $249 Campfire Guitar 'bundle' includes:

A studio-quality guitar with built-in tuner, and guitar pick
Lifetime access to premium online guitar lessons
Free delivery
Shipping is currently available for customers in the USA, Canada, UK, Australia, New Zealand and Hong Kong. Customers who already own an instrument to learn on pay only $49 for lifetime access to the premium online lessons.