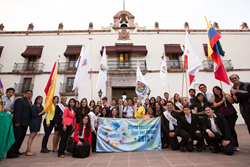 It is vital that the authorities adopt and promote this campaign because they have the responsibility of guaranteeing these rights.
(PRWEB) March 31, 2015
The 1st Latin American Human Rights Summit stressed the importance of human rights education to raise awareness and mobilize activity against human trafficking and other human rights abuses. The event was co-organized by Youth for Human Rights Mexico, the Scientology organizations of Mexico and the 12th annual Youth for Human Rights International World Educational Tour.
Human trafficking is a situation of grave importance in Mexico and other Latin American countries. According to the U.S. State Department, "Mexico is a large source, transit, and destination country for men, women, and children subjected to trafficking in persons, specifically forced prostitution and forced labor."
The president of a Queretaro anti-trafficking commission briefed delegates and their guests on the extent and ramifications of human trafficking and its toll on victims. She introduced a 20-year-old woman who told her harrowing story of being forced into prostitution at age 15.
Presentations by leaders of various delegations to the conference included:
The Youth for Human Rights coordinator for the state of Puebla, whose chapter helped organize the Summit and facilitated the activities of the delegates, has a weekly human rights radio show and holds human rights petition drives.
An official from Nuevo León presented Youth for Human Rights to his mayor, who decided to sponsor a seminar attended by more than 100 youth. Next, this Youth for Human Rights group created a photo exhibit using local talent to illustrate the 30 rights enshrined in the UN Universal Declaration of Human Rights. They have conducted human rights lectures in more than 20 city schools and have organized numerous activities including a Youth for Human Rights race and a human rights rock concert. For his work, he was chosen to represent Mexico at the 2014 Youth for Human Rights Summit in Brussels, which he described as "the greatest honor of my life."
A law enforcement official has trained some 2,000 officers on the basics of human rights using the Youth for Human Rights curriculum. "It is vital that the authorities adopt and promote this campaign," he said, "because they have the responsibility of guaranteeing these rights."
The conference was followed by a training seminar where delegates networked, shared their successful actions and honed their skills to accomplish maximum impact with their human rights educational activities.
The Youth for Human Rights World Tour has traveled some 450,000 miles and visited more than 80 countries, meeting with youth, educators and officials and agencies to promote education in the UN Universal Declaration of Human Rights to create a generation of advocates for tolerance and peace.
The Church of Scientology supports United for Human Rights (UHR) and its program for young people, Youth for Human Rights. United for Human Rights has provided educational materials in 17 languages to more than 150 nations. Some 21,000 schools have used its human rights materials.
To make United for Human Rights and the other humanitarian and social betterment initiatives it supports even more broadly available, the Church of Scientology has published a brochure, Voice for Humanity—Real Help, Real Results.
Inspired by the words of L. Ron Hubbard, Founder of the Scientology religion, that "a being is only as valuable as he can serve others," Scientologists wholeheartedly support these programs. Participation and collaboration in these initiatives is invited and welcomed from all who seek to improve conditions for themselves and others.
For more information, visit the Scientology website at http://www.Scientology.org/how-we-help/voice-for-humanity.