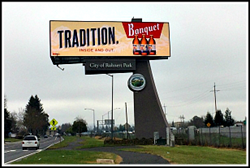 Veale got us that coveted targeted presence in Wine Country - Sonoma County and the SF Bay we desired. Michele Dudley, President MD Media for Budweiser Brand.
Dixon, CA (PRWEB) April 02, 2015
Veale Outdoor Advertising, the Northern California agency with 12 static and now two digital billboards to its name, announces its digital display in Dixon, California, the only digital billboard in the Dixon/Sacramento area. Similar to the first 14-by-48 foot digital billboard visible from the 101 freeway in Rohnert Park, California, the addition means, in total, the Network reaches over 12 million viewers including the much sought after tourist population traveling through the San Francisco, Sonoma, Marin, The East Bay, Sacramento, Lake Tahoe, and Reno, CA areas. The displays – the first of their kind – have proved a valuable advertising asset to businesses seeking wide exposure and allowing them to think bigger including the fastest growing Market in the area – the Hispanic Market which makes up over 30% of the population. This also opens the door for national advertisers looking for SF Bay Area coverage. For more info on innovations in digital advertising please visit http://www.VealeOutdoorAdvertising.com or call Tom Jackson, General Manager, 707-575–3752 and tom@vealeoutdooradvertising.com.
"We have been working with Veale advertising for over 10 years – they have been a pleasure to work with and always taken excellent care of our needs. We wanted to use them because we wanted to have a presence targeted in Sonoma County and the North Bay area and Veale Outdoor Advertising helped us to successfully reach those customers in the right way each time." Michele Dudley, President MD Media for Budweiser.
The billboards have attracted big advertising dollars to the area, "the digital billboards are a way for both smaller local and larger national businesses to reach new eyes. The results have been really phenomenal and we're seeing increases in business of 20% – 40% for our clients," said Tom Jackson, general manager of Veale Outdoor Advertising. "Now with the second board we've increased the coverage and extending the opportunity to companies advertising on a national scale seeking exposure in the greater North Bay area."
The digital display utilizes state-of-the-art technology that offers advertisers a unique way to meet the needs of a variety of consumers. Advertisers can adjust and customize their message in real-time in multiple languages that rotate consecutively to target multiple specific demographics. They can adapt their message to showcase new products, upcoming events, and limited-time offers. For businesses with timely national campaigns, this is especially pertinent. Veale also works personally and directly with customers to insure each campaign is successful by advising on how to buy and develop the best creative content.
Veale Giving Back
Both digital displays are used to broadcast numerous Pro-Bono community messages each day including: The Salvation Army, YWCA, Schultz Museum, Dixon Teen Center, local Rotary Clubs and other public-service messages, such as Amber Alerts, emergency-disaster communications and law enforcement announcements.
About Veale Outdoor Advertising
Based in Santa Rosa, California, Veale Outdoor Advertising is Sonoma County's largest locally-based outdoor advertising company – also locally owned - they have been a staple in the community for over 30 years and have a rich and respected relationship with advertisers and people in the area. For rates and availability call 707-575-3752 or Tom@vealeoutdooradvertising.com.