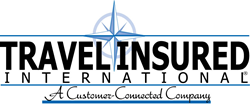 Glastonbury, CT (PRWEB) April 02, 2015
With billions of individuals traveling each year, the number of unforeseen travel disruptions that occur is most likely much higher than one would think. No matter how carefully detailed a trip is planned out, unexpected things may happen that are out of our control including delays, cancellations, disruptions, medical emergencies, lost baggage, etc. It can be hard to imagine what types of incidents can happen along the way, so Travel Insured, a leading travel insurance company, provides some real life experiences of travelers they have helped.
Case 1 – Benefit: CFAR
About six weeks before an insured traveler was supposed to take off to visit her family in California, she took a bad fall and fractured her hip. Even though this reason was not covered under the policy, she was eligible for Cancel for any Reason Coverage which allowed Travel Insured to pay out $337 to help reimburse her lost expenses from canceling the trip.
Case 2 – Benefit: Medical Evacuation
An insured traveler was finally experiencing her dream cruise coasting along Bali, Indonesia. She unexpectedly became ill during the trip and was immediately disembarked for a Cerebral Vascular Accident. With the Medical Evacuation benefit under her policy, Travel Insured was able to pay $207,000 for her air ambulance transfer and treatment.
Case 3 – Trip Interruption/Medical Expenses
During a 15 day trip to South Africa, a traveler experienced extreme illness due to Myocardial infarction, causing him to cut his trip short to receive adequate medical attention. Travel Insured was able to pay $3053.00 under the Trip Interruption benefit and $1,796.00 for Medical Expenses, paying a total of $4,849.00 to help cover his bills.
Case 4 – Travel Delay
During one of the major snowstorms that hit this winter, an insured traveler was delayed overnight while attempting to fly to Texas for a business conference. With the Travel Delay benefit, Travel Insured was able to pay $200 towards a hotel and meal which otherwise would've been an out of pocket expense.
Travel Insurance allows you to travel with 24/7 protection and support. If you are investing in a trip, it is imperative to invest in coverage for your health, safety, and travel costs. Visit http://www.travelinsured.com for more information on policies and benefits that are available.
*Benefits, exclusions, and limitations vary by plan and all claims need to be reviewed in order to be processed. The above incidents are sample scenarios of filed travel insurance claims.
About Travel Insured:
Travel Insured International is one of the largest privately held travel protection companies in the US, and preferred supplier to over 5,000 travel agents, travel consortiums and wholesalers in the US and abroad. As a former division of the Travelers up until 1994, and originator of travel insurance in the US, you can say that the "travel protection" blood lines run deep. Travel Insured International's customer centric claims operation has significant expertise in both domestic and international claims administration.
Travel Insured International
855 Winding Brook Drive
Glastonbury, CT