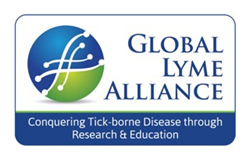 We will now be able to speak with a single, more powerful voice to advance the fight to end tick-borne illness forever.
STAMFORD, CT and NEW YORK (PRWEB) April 09, 2015
Lyme Research Alliance (LRA) and Tick-Borne Disease Alliance (TBDA), two of the most influential voices on Lyme and tick-borne diseases, announced today they have completed the previously announced merger of the two organizations.
The new entity, named Global Lyme Alliance (GLA), will be the largest tick-borne disease organization in the nation. It will carry on the mission and important work of LRA and TBDA: to conquer Lyme and tick-borne diseases through research and education.
"The merger will harness our individual strengths and combine them to pursue our shared mission to develop a reliable diagnostic test and discover effective treatments for Lyme disease, while continuing to educate the public about the growing threats of Lyme and other tick-borne illnesses," said Debbie Siciliano, co-founder and co-president of LRA.
Adds Charles Balducci, co-chairman of TBDA: "By consolidating our two groups, we are combining LRA's research expertise and its vast network of world-renowned medical experts, physicians, researchers and key medical institutions with our proven grass roots awareness campaigns and national fundraising events. We will now be able to speak with a single, more powerful voice to advance the fight to end tick-borne illness forever."
GLA will be led by a board of directors consisting of board members from both organizations. Robert Kobre, a member of LRA's Scientific Advisory Board, will serve as Chairman of the Board. Diane Blanchard, LRA's co-founder and co-president, along with David Roth, TBDA's co-chairman, Siciliano and Balducci will serve as Vice Chairmen. Staci Grodin, formerly TBDA's president, was named to GLA's Executive Committee and will continue to play a major role in the new organization. Dr. Harriet Kotsoris will remain as the Chief Scientific Officer. Fran Herzog and Paul Ross, both LRA Executive Committee members, along with Bob Forster and Drew Goldman, both TBDA Executive Committee members, will round out GLA's Executive Committee.
TBDA and LRA first announced merger plans in May 2014 and signed a definitive agreement in late February 2015.
"Over this period, our teams have worked diligently to complete the merger," said Kobre. "Our two organizations share similar priorities and values, most notably a commitment to continuing a campaign of education for the general public and physicians, developing reliable 21st century diagnostics and treatments, and finding cures for those still suffering from Lyme disease and its symptoms. Moreover, by merging we increase our fundraising capabilities, enhance our foundation for growth, and improve our ability to get more people involved in the fight against Lyme disease."
Lyme disease is the most common vector-borne disease in the U.S. with over 300,000 new cases diagnosed in the U.S. each year, according to the Centers for Disease Control and Prevention (CDC). The number of Lyme cases reported annually has increased nearly 25-fold since national surveillance began in 1982. There are no accurate diagnostic tests for the tick-borne disease, no tests to prove that Lyme bacteria are eradicated or that an individual is cured. According to the CDC, some 15-20 percent of individuals treated for Lyme continue to experience symptoms such as severe arthritis, persistent fatigue, impaired vision, memory loss and other cognitive problems.
ABOUT GLOBAL LYME ALLIANCE
GLA, the largest tick-borne disease organization in the U.S., was formed by the merger of LRA and TBDA, making it a powerful voice in the fight against Lyme and other tick-borne diseases.
LRA, formerly known as Time for Lyme, was created in 1998 as the Greenwich Lyme Disease Task Force. The Stamford-based organization is the leading private nonprofit funder of cutting-edge research into the prevention, diagnosis and treatment of Lyme and other tick-borne diseases. Since its launch, LRA has granted nearly $5 million to significant research at top-tier universities around the nation.
TBDA was founded in 2012 following the consolidation of Turn the Corner Foundation, created in 2002, with the Tick-Borne Disease Initiative. Based in New York, TBDA has produced many comprehensive public awareness campaigns, such as its Bite Back for a Cure Walks/Runs and its national cross-country bike tour. TBDA has also initiated highly successful medical education and doctor referral programs, among other projects.
GLA's headquarters will be located in Greenwich, CT, with an office in New York City. A GLA website will be launched in the next few weeks.
On Saturday, April 11, the merger of LRA and TBDA will be celebrated at the "Time for Lyme" Gala at the Hyatt Regency Greenwich in Old Greenwich, CT. The event features a cocktail reception, dinner, dancing, and a silent and live auction. New York Times best-selling author Jane Green will receive the Star Light Award and renowned Lyme disease researcher, Dr. John Aucott, founder and past president of the Lyme Disease Research Foundation, will receive the Lauren F. Brooks Hope Award. For more information or to purchase tickets, go to LymeResearchAlliance.org or Tick-Borne Disease Alliance, or call 203-969-1333.
###