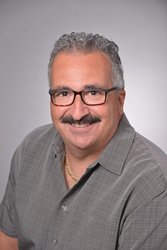 Monroe, CT (PRWEB) April 03, 2015
People who speak Spanish, Portuguese or Polish and need to visit a periodontist in Monroe, CT, can now visit Dr. Richard Amato to receive treatment from professionals who can speak the same language. Dr. Amato and his staff at Advanced Periodontics and Dental Implant Center of Connecticut LLC are proud to announce that they now can communicate fluently in all three languages. This should enable the staff to offer better care to patients who speak English as a second language.
Dr. Amato and his staff are committed to giving patients attentive care and protecting their long-term health. Communicating more effectively with patients allows Dr. Amato to more accurately diagnose oral health problems and help patients understand the health benefits of treatments or lifestyle changes. Dr. Amato offers various alternatives to conventional periodontal treatments, including the LANAP® protocol, which is a laser-based treatment for gum disease, and the Chao Pinhole® Surgical Technique (PST), which is a minimally invasive alternative to gum grafting. By communicating with patients who speak Spanish, Portuguese or Polish in their native languages, Dr. Amato can more easily explain the nature and benefits of these procedures.
As a periodontist in Monroe, CT, Dr. Amato provides treatment for various oral health issues. With the LANAP® protocol, Dr. Amato can lower the risk that patients will experience health complications associated with gum disease, including tooth loss, bone density deterioration and systemic health issues. With PST™, Dr. Amato can mitigate gum recession, a common side effect of periodontal disease, to give patients better protection against tooth sensitivity, mobility, infection or decay. For patients who have already lost teeth due to gum disease or other causes, Dr. Amato offers dental implants and implant-supported dentures. These tooth replacements, which are secured in place with studs implanted in the alveolar bone, provide patients with a more stable fit and greater functionality.
Dr. Amato and his staff look forward to offering multilingual services to patients who need to visit a periodontist in Monroe, CT, for any of these treatments. Dr. Amato encourages prospective patients who suffer from gum recession, gum disease or tooth loss to schedule consultations to learn about their treatment options. Patients can request appointments by visiting Dr. Amato's website or by directly contacting his practice office.
About the Doctor
Dr. Richard Amato is a periodontist and dental implant specialist who provides personalized dental care using the most advanced technology for patients in Monroe, Connecticut. He has placed thousands of dental implants since 1989. Dr. Amato earned a DDS degree from Stony Brook University. He then completed a full time multi-year specialty residency and received his Certificate of Proficiency in Periodontics from Eastman Dental Center at the University of Rochester. He belongs to the one percent of dentists in the USA currently providing the first FDA-cleared laser procedure for gum disease treatment. Dr. Amato is the first and most experienced provider of LANAP® therapy in Fairfield County, Connecticut as well as the only Periodontist to provide the Pinhole Surgical technique in CT. To learn more about Dr. Amato and his dental services, visit his website at http://www.connecticutperiodontist.com and call (203) 712-0917.