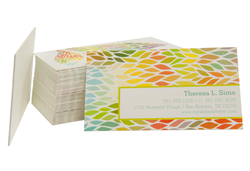 'These opulent new business cards are just one way we're keeping our commitment to offer an industry-leading selection of trade print products,' says Sandy Bartels, Navitor Senior Product Manager.
North Mankato, Minn (PRWEB) April 07, 2015
Navitor, located in North Mankato, MN, is pleased to announce the addition of two new business card options to their stationery program: extra thick business cards and soft touch laminated business cards.
New extra thick business cards are made by combining two layers of premium Mohawk Superfine Eggshell® Ultrawhite stock, which creates a substantial 34 pt. stock. Soft touch laminated business cards are finished with a laminate coating on the front side with a soft, suede-like texture that is also scratch and scuff resistant. Both extra thick and soft touch laminated business cards are available with full color print. Extra thick business cards are also available with rounded corners.
"We know our customers count on us for our wide offering of business cards and stationery papers and processes," says Sandy Bartels, Navitor Senior Product Manager. "That is why we're pleased to be able to offer our customers these new, luxurious business cards as part of a continued drive to expand our specialty and premium stationery programs."
Navitor will also be offering special introductory pricing for extra thick business cards, allowing buyers to save 15%. This offer is exclusively for Navitor resellers and will be available through April 30th.
Both new business card options are debuting on the Navitor website and are available for online order. More information about Navitor and the company's selection of products can be found at Navitor.com.
About Navitor
Navitor Inc. is one of America's largest commercial wholesale printers, delivering innovative programs, services and technologies exclusively to our community of resellers. Headquartered in Minnesota and with manufacturing facilities nationwide, Navitor provides print resellers and distributors the industry's widest catalog of personalized print and custom business identity products. Navitor is part of the Taylor Corporation family of companies. For more information, visit our website at Navitor.com.