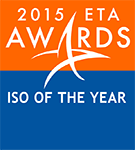 "We can't thank the ETA enough for their support, and we're committed to being good stewards of the award by continuing to drive payments innovation and create future industry leaders."
San Francisco, CA (PRWEB) April 09, 2015
Last week, the Electronic Transactions Association (ETA), announced Payscape the winner of the 2015 "ISO of the Year" at their annual Star Awards Gala. Payscape was chosen out of over 300 companies in the payments industry due to their initiatives to move the industry forward, while meeting challenges and demonstrating results.
"We're honored and humbled by this recognition, particularly because it comes from our industry peers," says Jeremy Wing, President and Co-Founder at Payscape. "We can't thank the ETA enough for their support and we're committed to being good stewards of the award by continuing to drive payments innovation and create future industry leaders."
"The entire payments landscape, and most everything it touches, is moving at an unprecedented pace," said Todd Ablowitz, president, Double Diamond Group and board member for ETA. "Companies like Payscape are making significant contributions to our industry, driving innovation and growth."
In the past three years, Payscape has increased their annual revenue over 30%, grown their client base by 50% and processed over 64 million transactions. But most important to the company, are the people and the culture in which they create. A major factor for the award nomination was their investment in training and leadership development for employees.
Payscape calls this program Payscape University, and the curriculum includes a week long intensive course at Payscape's corporate headquarters in Atlanta, followed by post-training product webinars and continued education modules. They also take a deep-dive into the history of the payments industry; with details surrounding compliance, interchange, PCI/DSS security and all-around merchant best practices. Lastly, they explore the psychology of sales and marketing in a way that enables employees to approach the market in a consultative and innovative manner.
The employee investment at Payscape allows them to differentiate themselves from other players in the payments industry and continue to develop other services such as SaaS integration, online invoicing, registration, e-commerce and alternative lending.
About Payscape
Founded in 2004, Payscape is an integrated financial technology provider dedicated to making it simple for business owners to collect money. We're a team of inspired entrepreneurs intent on disrupting the commoditized payment landscape with cutting-edge products and services, universal API integration, best-in-class customer service, strategic referral and technology partnerships and a lifelong devotion to helping small to mid-size business owners increase cash flow. Learn more about the company at payscape.com and subscribe to fintech updates @_Payscape.