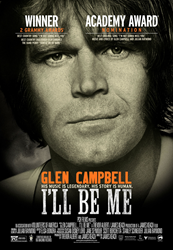 Des Moines, WA (PRWEB) April 08, 2015
Wesley Homes Retirement Communities and Home Health Services hosts a free screening of the Grammy Award winning and Academy Award nominated film "GLEN CAMPBELL…I'LL BE ME" with Producer Trevor Albert at Wesley Homes Des Moines on Monday, May 5 at 6:30 p.m. and Tuesday, May 5 at 2:30 p.m.
In 2011, Campbell was diagnosed with Alzheimer's disease and was told to prepare for the worst. Instead, he and his wife, Kim, went public with the diagnosis and announced that they and the family would set out on a Goodbye Tour. "GLEN CAMPBELL…I'LL BE ME" documents this journey as they navigate the unpredictable nature of Glen's disease using music, love and laughter as their medicine.
The Wesley Homes screening is sponsored by Washington Federal and Propel Insurance. The film will be introduced by Albert, who will also answer questions afterward. The screening is open to the public, but space is limited. An RSVP is advised to assure entry.
According to the "2014 Alzheimer's Disease Facts and Figures Report" produced by the Alzheimer's Association, every 67 seconds someone in the United States develops Alzheimer's. More than 5 million Americans are living with the disease.
As instances of Alzheimer's disease and other forms of dementia continue to rise, Wesley Homes directs more supportive services to those in need of memory care. The film screening is part of Wesley Homes' efforts to raise awareness of the disease, serve those with dementia and offer opportunities to help improve brain health.
Programs, such as Music & Memory, are provided on both the Des Moines and Auburn campuses and are now an integral part of dementia care at Wesley Homes. For those who have noticed a bit of memory decline or just want to improve their cognitive strength, Wesley Homes provides the Brain Fit program developed by Dr. Robert Winningham and Learning Is ForEver, or LIFE, program featuring a series of college courses open to all seniors.
Founded in 1944, Wesley Homes is a not-for-profit organization that provides a network of services offering a continuum of care for over 1,800 older adults with two retirement communities in south King County, a private pay home care agency and a Medicare-certified home health agency. It is affiliated with the Pacific Northwest Annual Conference of the United Methodist Church.