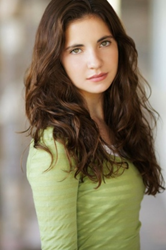 AMTC Grad and 8 DAYS Star Nicole Smolen
Atlanta, Ga (PRWEB) April 08, 2015
Actors, Models and Talent for Christ (AMTC) is a non-profit Christian ministry that has been scouting the country, searching for actors, models, singers, dancers and comedians who are called to become positive role models in the entertainment industry. Adam She, president of the organization, speaks about the purpose of AMTC. "Bad is bold in the entertainment industry, so good must be BOLDER. It's time for God's stars to stand up on the stages of film, fashion, music and theater," he says.
AMTC's scouts are industry professionals who believe in mentoring the next generation of upcoming artists. After this initial scouting event, select talent will be invited to participate in more intensive programs and training. The scouts for the September 27 and 29 auditions are Jaco Booyens (Dallas) and John Montes (Denver and Colorado Springs).
Jaco Booyens is an actor, model, professional athlete and director. He and his wife, Philipa, own After Eden Pictures where he recently directed 8 DAYS: a powerful film dedicated to raising the awareness of human trafficking. "Our calling is to 'Transform Culture Through Uplifting Entertainment'," Jaco says. "What is more culturally transformational than producing a film for a cause, to stop this atrocity, the selling of our American children and children worldwide."
AMTC Founder Carey Lewis will be hosting the talent auditions in Tampa, Fla. at the Hilton Hotel Tampa. As co-founder of Actors, Models and Talent for Christ, Carey is thankful that the non-profit organization is being used as a tool to shepherd Christ's movement into the industry. She says that AMTC is used for a higher purpose, "to promote His stars into key positions in the most pivotal mission field in the world: media."
Founded in 1982, AMTC is a talent-development ministry offering the Bridge Training Program and a six-day international SHINE Conference. The organization trains performers in both improving their gifts and reflecting Christ, while connecting them to an array of entertainment industry professionals.
To register and learn more about AMTC auditions, please visit http://www.amtcaudition.org.