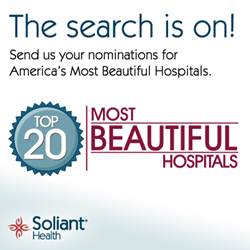 "We received a record-breaking 250,000 votes last year which tells us so much about the pride people take in their hospital and its architectural beauty." - Soliant President David Alexander
Atlanta, GA (PRWEB) April 09, 2015
Soliant Health, a leading specialty healthcare staffing provider and part of the Adecco Group, is searching for the most beautiful hospitals in America.
For the seventh year in a row, Soliant Health is accepting nominations for the nation's most beautiful hospitals. Anyone with a beautiful hospital in mind can submit a nomination as long as the hospital is located within the United States. The nomination period runs until May 1, 2015 and the voting period follows shortly afterward.
Hospitals will be judged based on the number of votes received, with considerations of measures such as architectural style, photogenic properties, landscaping, and unique features, as well as how these factors work together to improve the overall hospital experience for patients and providers alike.
"After six years of ranking America's Top 20 Most Beautiful Hospitals, we continue to be astounded by the measures hospitals take in order to achieve ultimate patient satisfaction," said David Alexander, president of Soliant Health. "We received a record-breaking 250,000 votes last year which tells us so much about the pride people take in their hospital and its architectural beauty."
The impressive medical facilities honored across the U.S. last year included Gulf Coast Medical Center in Ft. Myers, Fla, Witham Health Services in Lebanon, Ind., and Huntsman Cancer Institute in Salt Lake City, UT. While all top 20 hospitals impressed, it was McKay-Dee Hospital in Ogden, UT, that proved most impressive with its efficient parallel-corridor system, breathtaking views of the Wasatch Mountain Range, and true patient-centered design.
"We are so excited to be named America's Most Beautiful Hospital by Soliant," said Timothy Pehrson, Intermountain McKay-Dee Hospital CEO and Regional Vice President. "We have found that beauty is just as important in the smile of a nurse and the comforting voice of a doctor as it is within the walls and the grounds of the hospital itself."
To nominate a beautiful hospital in the U.S., or to learn more about last year's winners, please visit mostbeautifulhospitals.com by May 1st.
For more information about Soliant, visit soliant.com.
About Soliant Health
Soliant Health, an Adecco Group company, is a leading provider of specialized healthcare staffing services to schools, hospitals, and other healthcare providers. By supplying traveling healthcare professionals on both temporary and direct hire assignments, Soliant Health delivers comprehensive healthcare staffing services across the United States. Soliant's teams of professionals are qualified to fill physician, nursing, therapy, pharmacy, healthcare IT, advanced practice, telehealth, special education, and other healthcare positions.
For further information, please contact:
Tera Tuten
Operations Director
Soliant Health
904-527-5826
tera(dot)tuten(at)soliant(dot)com