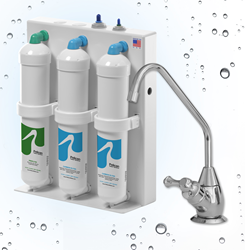 The Pelican 3-Stage Drinking Filter offers high quality drinking water by reducing chlorine and chloramine taste/odor from your water!
Deland, Florida (PRWEB) April 08, 2015
Cleaner drinking water is as close as the cabinet below your kitchen sink.
The Pelican Water 3-Stage Drinking Water Filter is an under-counter system that promises to improve drinking and cooking water quality without taking up much-needed cabinet space. The Pelican system works by reducing chlorine and chloramine tastes and odors from the household water supply in three simple filtration stages. These stages include a 25 Micron Pre-filter followed by two Catalytic GAC Carbon filters in a compact, easy-to-maintain cartridge system.
The Pelican system wastes no water while providing 1,500 gallons of cleaner water with on-demand filtration; an eco-friendly advantage compared to traditional reverse osmosis systems. The 3-Stage Filter reduces chlorine and chloramine leaving you with fresher, healthier water. The carbon filters also allow essential, beneficial minerals including calcium and magnesium to remain in the water whereas a traditional reverse osmosis system would remove them.
The Drinking Filter comes with a stylish faucet available in three metal color finishes, The Pelican filtration system boasts color coded fittings that ensure quick, simple installation. Annual maintenance is quick and simple, requiring only a no-tools required cartridge exchange. The 3-Stage Filter is also icemaker compatible, so you can enjoy cleaner, healthier ice in the home.
The Pelican Water 3-Stage filter is an environmentally friendly alternative to traditional RO systems. By using lighter weight materials, Pelican is able to streamline the manufacturing process, provide a smaller footprint, and require fewer shipping materials.
The Pelican 3-Stage Drinking Water filter is proudly made in the U.S.A.
About Pelican Water
PelicanWater.com is the official, factory-direct retail website for Pelican Water Systems, providing professional knowledge and leading technologies in whole house water filtration, countertop water filtration systems, UV bacteria disinfection systems, as well as salt-free water softening and conditioning systems. Pelican Water products use cutting-edge technology and enable customers to go green by eliminating wasteful and harmful salt brine discharge that is polluting our valuable fresh water resources.
For over a decade, Pelican Water has stayed true to their mission statement: being a company that helps families enjoy cleaner, safer, better-tasting water in their homes in an environmentally-friendly way. Pelican Water has been and continues to be the global market leader in salt-free water softening system. For more information about Pelican Water Systems, visit PelicanWater.com.