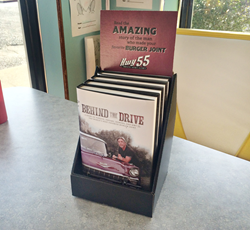 ...this book can give you some hope if you need it, and be a really useful story that you hold onto for a long time
Greenville, NC (PRWEB) April 08, 2015
Ten22 Publishing announced that its new book about Hwy 55 Burgers, Shakes & Fries founder Kenney Moore is now available for purchase in every Hwy 55 location in the United States. The book, "Behind the Drive: A Story of Passion, Dreams, Demons, and Hwy 55, the World's Next Favorite Burger Joint," has received high praise in early reviews and has been featured and excerpted by major media outlets, such as Business Insider.
"This is surreal," said author Brandon Sneed. "I've been eating Hwy 55 burgers since I was five years old and they were called Andy's. It's amazing to see my book for sale in there."
Mostly, Sneed said, he's just glad the book is making its way out into the world. "This book tells a great story that you'll have a great time reading," he said. "It'll make you laugh, cry, cringe, cheer, all that good stuff good stories do. But I also think it can be more than that. I think this book can give you some hope if you need it, and be a really useful story that you hold onto for a long time."
"Behind the Drive" was written as a collaboration between Moore and Sneed. Sneed's writing and journalism has been recognized as some of the best in the country, including a 2014 Best American Sports Writing Notable Selection.
Having "Behind the Drive" release first to Hwy 55 stores instead of directly to bookstores and major retailers was an intentional marketing strategy by Sneed and Moore. They wanted Hwy 55's most loyal customers and fans to have the first chance to buy the book before the rest of the world.
"Our customers and our fans are incredible," Moore said. "And I wanted to give them the first chance to buy this book, just sort of as a thank-you for supporting us all these years."
Bestselling authors and business leaders have raved about the book. Orlando Magic Senior VP and bestselling author Pat Williams says Behind the Drive is "Brilliant, beautifully written, simply thrilling, essential for anyone who wants more out of life" and "one of the bravest books I've read in a long time." Jim Hunter, international bestselling author of The Servant, calls Behind the Drive "A great read" and says "Kenney Moore knows the business of people is people." Kennan Burch, founder and CEO of Brand Catalyst Partners, says, "Kenney Moore is a rebel with a heart of gold — and with a story that our world needs right now." And Samir Gupte, former VP of Culture at Darden Restaurants, says, "Kenney Moore has lived an inspirational life, reflected perfectly in this book."
Moore and Sneed both also wished to express that they are both currently fielding inquiries about speaking engagements all over the country. While their availability is limited, they are open to considering all requests. Moore speaks about servant leadership and how he built his company on it, while Sneed speaks about the messages and lessons in Behind the Drive as well as about writing, journalism, publishing, and the many other wild and inspirational stories he's written for major media outlets.
"Behind the Drive" will also be available in bookstores everywhere soon. You can also buy a copy on Amazon for $19.95. Read excerpts and book the authors for speaking engagements and interviews at http://www.behindthedrive.com.