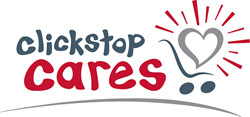 If it wasn't for people like Ruth and other area residents donating items, we wouldn't have been able to move ahead so quickly.
Urbana, IA (PRWEB) April 09, 2015
When Urbana-based Clickstop announced its plans to develop Clickstop Cares to help area families in need, the donations began to pour in. In just three months, the company's previous office space on Bing Miller Lane has filled with clothing and housewares donated by employees, area residents, and even businesses.
One of those businesses, Uptown Tots of Cedar Falls, has played a big part in helping to fill the racks of children's clothing. The boutique has donated nearly $3500 in new clothing, and plans to continue to send the charity organization its clearance/overstock merchandise every month.
Loraine Kelty, Clickstop employee and Cares Director, says the team is fortunate to have gotten in touch with the boutique's owner, Ruth Beek.
"Ruth happened to hear about our plans through mutual friends, and was kind enough to contact us," said Kelty. "We are so grateful for the support; if it wasn't for people like Ruth and other area residents donating items, we wouldn't have been able to move ahead so quickly."
Kelty says Clickstop Cares has already helped several area families in need, and that the Cares team is always taking donations.
Individuals or businesses interested in donating to the organization can call or e-mail to set up an appointment. Kelty says they've found appointments work best as it gives the team time to go through donations at drop-off.
"When it comes to donations and the children's clothing in particular, we're somewhat picky in what we accept," said Kelty. "We really want to help these kids feel like they fit in with their peers, not stand out with clothing that's worn, stained, or outdated."
In addition to like-new or new clothing, Clickstop Cares also accepts household goods, appliances, unopened personal care products, cleaning supplies and non-perishable food items. Monetary donations are also accepted and appreciated. To schedule a drop-off time, please call 1-888-794-1413 or email Cares(at)Clickstop(dot)com. The organization is applying to become a 501(c)(3) non-profit organization, meaning donations will become tax deductible following that process.
About Clickstop, Inc.
Clickstop is the parent company of a suite of online retail stores based in Urbana, Iowa. Its focus on great workplace culture has landed the company multiple work environment-focused awards including two first place achievements as the Coolest Place to Work. Clickstop web properties serve diverse markets that include the moving and cargo control industry, energy efficient insulation products, and home organizing solutions. For more information visit http://www.Clickstop.com.
About Uptown Tots
Uptown Tots is an upscale and unique children's clothing boutique in downtown Cedar Falls, Iowa. Opened in October 2013, the boutique offers newborn, infant, toddler, and young children sizes as well as accessories, gifts and toys. For more information, visit http://www.uptowntots.com.