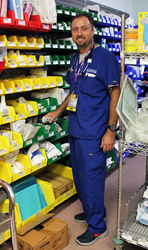 I found Mark to be great, supportive, and encouraging," said Mike. "He is someone who believes in me.
Ft. Myers, FL (PRWEB) April 29, 2015
There's an old saying, "your life can change in an instant." Mike Milita never thought it would happen to him, but it did. A motorcycle accident changed his life in an instant.
Mike was working as a truck driver and delivery associate for Sysco in southwest Florida. A number of his co-workers had motorcycles so he bought a Harley-Davidson to ride with them.
Two years later, while riding with his motorcycle group, a young woman suddenly changed lanes and hit the left side of his bike and his leg. Mike couldn't feel any pain and thought everything was fine until he looked down and saw that his left leg was turned in the opposite direction. It had broken in 10 places and three inches of his tibia had vanished.
Mike found an excellent orthopedic specialist and surgeon to repair his leg, but unfortunately, he developed osteomyelitis, a bone infection, and had to make the difficult decision of how to proceed. Going through the usual methods of healing, with casts, therapy, assistive devices, etc., his leg would have taken years to heal.
Mike likes to think of himself as a fighter, a trait he learned from his father, and he doesn't let obstacles stand in his way. After thinking about the importance of his quality of life and being inspired by Oscar Pistorius, the double below-the-knee amputee athlete from South Africa, he decided to have his leg amputated.
While he was recuperating and unable to work, Mike was supported by Medicare. When he was ready to go back to work, they suggested he use his "Ticket to Work." He was given a list of employment networks, and he chose Vocational Rehabilitation (VR) for services. VR helps people with disabilities get or keep a job. Mark Guthrie became his counselor and the two hit it off from the start. "I found Mark to be great, supportive, and encouraging," said Mike. "He is someone who believes in me."
Mike always had an interest in the medical field, and Mark agreed to send him to the nursing program at Edison State College. VR paid for Mike's tuition and books. He graduated at the top of his class with a 3.96 GPA and an associate's degree in nursing. While he was in school, he spearheaded the restructuring of his local chapter of the National Student Nurses' Association.
Mike is currently working full-time as a critical care nurse in the emergency room at Lee Memorial Hospital in Ft. Myers. He is also working toward his bachelor's degree in nursing and hopes to continue his career. Mike holds himself to his own high expectations and likes to give back to the community by distributing food and helping families during the holidays and participating in other service projects.
Mark is very proud of Mike and how far he's come. He enjoyed working with him and helping him find his next career. "Mike was a model customer."
About Vocational Rehabilitation
Florida's Vocational Rehabilitation (VR) is a federal-state program committed to helping people with disabilities become part of America's workforce. Our employer-focused website, http://www.FLJobConnections.com, allows businesses to search at no charge for employees who are ready to go to work, as well as to post available jobs. VR has 89 offices across Florida, and last year helped 7,214 Floridians with significant disabilities find or keep a job. For more information about VR and its services, call (800) 451-4327 or visit http://www.Rehabworks.org.