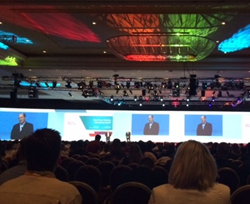 We were energized by the conversations with marketers who understand the power of preference management
Atlanta, Georgia (PRWEB) April 09, 2015
PossibleNOW, the leading provider of customer engagement and enterprise preference management solutions, was cited as a key example of Oracle partners delivering innovative solutions at Oracle's Modern Marketing Experience (MME) conference, held in Las Vegas from March 31 to April 2. PossibleNOW's enterprise preference management platform, MyPreferences®, was featured during Oracle Group Vice-President Steve Krause's and Oracle Eloqua Product Leader John Stetic's keynote presentations.
"PossibleNOW puts the marketer in control of creating the preference experience," said Steve Krause, during his keynote presentation. "Instead of having six preference centers split across brands, regions or apps, there is one way for preference data to be collected and a safe place for it to go. And it's all under the marketer's control."
As the flagship event for Oracle Marketing Cloud, Modern Marketing Experience offers best practices, training, process innovations, new technologies and networking for marketing professionals. By virtue of its direct integration with Oracle Eloqua and Oracle Responsys, PossibleNOW's MyPreferences was identified as a critical component for marketers relying on these platforms for marketing automation. By giving customers a voice, MyPreferences fulfills the company's promise to listen and learn from prospects and customers.
"While it's always exciting to be recognized from the stage, we were even more energized by the private conversations we had throughout the conference with marketers who understand the power of preference management," said PossibleNOW President and CEO Scott Frey. "Our partnership with Oracle has delivered real results, not only for us, but for marketers seeking effective orchestration across their technology stack. MyPreferences is an ideal tool both for B2C marketers using Oracle Responsys and B2B marketers leveraging Oracle Eloqua."
About PossibleNOW
PossibleNOW, headquartered near Atlanta, Georgia, enables businesses to build lasting, profitable relationships with customers, partners and employees through preference management technology. MyPreferences®, our enterprise preference management platform, empowers companies to listen to and learn from their customers through the active collection and management of preferences such as product interest, channel preference and frequency of communication. MyPreferences easily integrates into existing applications such as CRMs and marketing databases. The MyPreferences platform's flexibility, security and compliance protections make it ideal for serving as the central repository for customer data inside the enterprise and for minimizing regulatory compliance risk. For more information, call (800) 585-4888 or (770) 255-1020, e-mail info(at)possiblenow(dot)com or visit http://www.possiblenow.com.
###