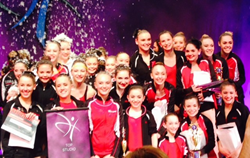 We were amazed by the positive energy that exudes from you, your instructors, parents, and dancers" Shawna David, Executive Director of World-Class Talent Experience
Newtown, PA (PRWEB) April 09, 2015
The talented DSDW Competition Team from Newtown Pennsylvania, attended the event at Upper Merion High School in King of Prussia PA, where they competed against dance studios from Pennsylvania, New Jersey, Delaware, and more. The team, trained by Debra Sparks, began the weekend with much success, receiving top accolades at the first awards ceremony. As the competition progressed and DSDW continued collecting top awards, it was clear that the Bucks County dancers were on fire!
At the competition's conclusion, professional judges proclaimed Debra Sparks Dance Works as the Top Studio with DSDW dancers winning the following categories: Top Technique in Junior and Senior Divisions, Highest Scoring Choreography, World Class Distinction Award, World Class Junior Title Winner, Overall Top Entertainment Achievement, First Place Photogenic Award, Top Teen Small and Large Group, Top Junior, Teen, and Senior Soloists, Highest Junior, Teen and Senior Duo/Trio Award. In addition, several students danced away with scholarships, and all attended complimentary master classes for a fun filled weekend.
Debra Sparks had this to say about the event : " I found this weekend to be one that reinforced all the terrific attributes my talented dancers exude daily, from their dedication, technical prowess and professionalism on and off the stage, to their true love of dance and team devotion. I couldn't be more proud! I am so very blessed to have the opportunity to train these gifted dancers and to instill in them confidence and growth in self esteem along the way. These dancers have great futures ahead! Look for them in April as they join LEGACY DANCE COMPETITION! "
About the Studio
Debra Sparks Dance Works offers beginner to pre-professional training and serves communities in Upper and Lower Bucks County and New Jersey including Newtown, Yardley, Richboro, Holland, Ivyland, Fairless Hills, Langhorne, New Hope, and more. Ms. Debra Sparks has enriched the lives of her students by providing a professional and nurturing environment for over 30 years. Her dancers learn precise technique in a fair, friendly, and fun environment. Check out the studio video to get a glimpse inside of Bucks County's finest ballet and dance training school.
Click Here to View The Studio Video
Learn More
The school hosts community events each year including fundraisers for charities and Master classes with professional choreographers. DSDW has year-round dance classes in all genres but the focus on classical ballet sets DSDW apart from the rest by giving the dancers a solid foundation. Classes are offered for students of all ages (toddler to adult) and include the following:

Classical Ballet
Contemporary Ballet
Pointe
Glee Club
Hip Hop
Competitive Jazz
Jazz Funk
Jump & Turn
Lyrical
Modern
Musical Theatre
Toddler Dance Classes
Pilates
Tap
Zumba
For more information about Debra Sparks, the DSDW studio, the DSDW Competition Team, Newtown, Bucks County dance classes, the area's best ballet and dance school, dance classes for toddlers, or for answers to general questions, please visit the website at DebraSparksDanceWorks.com or call the studio at (215) 579-5678.