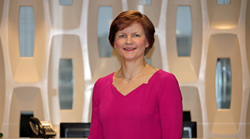 Atlanta, GA (PRWEB) April 10, 2015
Multifamily Executive recently honored ten women as the most influential in the multifamily industry. For the past three decades, women have increasingly taken leadership positions at some of the largest companies in the multifamily industry. They've often been at the forefront of the biggest trends and pioneered the biggest deals. Sue Ansel was included in the top ten for her contributions as CEO and President of Gables Residential, as well as for her overall impact and influence in the multifamily industry over the years.
Having joined Gables Residential 28 years ago, Sue held positions in acquisitions, development, and operations. "I was fortunate to be able to have opportunities within Gables that allowed me to grow and experience different departments within our organization," says Ansel. "Having that depth of knowledge allowed me to understand the overall business."
The newest opportunity to drive growth for Sue comes with Gables' recapitalization with Clarion Partners. "We now have the opportunity to raise capital to take advantage of continued growth in our industry," she says. "Much of my focus for the next year or two will be capitalizing on our opportunity to build our future."
About Gables Residential
Gables Residential is an award-winning, vertically integrated, real estate company and privately held REIT specializing in the development, construction, ownership, acquisition, financing and management of multifamily and mixed-use communities. Gables Residential owns, develops and manages communities in high-growth U.S. markets such as Atlanta, Austin, Boston, Dallas, Denver, Houston, South Florida, Southern California and metropolitan Washington, D.C. Gables also provides third party management services in the New York, New Jersey, Baltimore, Phoenix, Seattle, San Antonio, Charlotte, Central and North Florida markets.
Gables manages approximately 35,000 apartment homes and 400,000 square feet of retail space and has received national recognition for excellence in development, management, sales, marketing, training, benefits and corporate accommodations. These achievements reflect the impact of our experienced and dedicated team members, our superior knowledge of the markets served, and expertise in development and management.