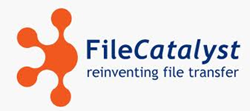 Adobe is always striving to innovate and provide the best possible solutions
Ottawa, Canada (PRWEB) April 14, 2015
Unlimi-Tech Software, Inc., an Emmy® Award winning pioneer in managed file transfers and the creator of FileCatalyst, an accelerated file transfer solution, is pleased to announce a new integration with Adobe® Premiere® Pro CC.
Adobe Premiere Pro CC, a key component of Adobe Creative Cloud®, is a powerful video editor used by world-leading media and broadcasting professionals. Users are able to import and combine virtually any type of media and then edit it in its native format, without wasting time transcoding.
The integration of FileCatalyst technology will allow users to send content quickly, securely, and reliably, right from Adobe Premier Pro CC, to any FileCatalyst Server globally. As media file sizes have increased exponentially the past few years, traditional methods of file transfer such as email or FTP are proving to be increasingly slow and unreliable, particularly on unreliable networks or across vast distances. However, FileCatalyst's patented protocol is UDP-based and immune to network impairments such as latency and packet loss. The result is that users of Adobe Premiere Pro CC can send large media files, regardless of size or format, in minutes, rather than hours or days.
"Adobe is always striving to innovate and provide the best possible solutions," said Simon Williams, senior director, business development, Adobe. "With this integration of FileCatalyst with Adobe Premiere Pro CC, users will experience accelerated file transfer, security, and reliability, which makes it even easier for our customers to send large media files."
"Adobe is global leader and we are thrilled to offer our product to their users," said Unlimi-Tech CEO and co-founder, Chris Bailey. "We also encourage people to come out and see a demonstration of our joint solution at NAB from April 13th through 16th."
FileCatalyst will be demonstrating their accelerated workflow solution with Adobe Premiere Pro CC at NAB in booth SL8505. In addition, an Adobe representative will present the Adobe Creative Cloud solutions for broadcasters in the FileCatalyst booth on Wednesday April 15th at 3:30 pm.
About Adobe at NAB
At NAB 2015, Adobe is showcasing advances that radically improve how broadcasters, filmmakers and video professionals create, collaborate, deliver and monetize content across multiple screens. Adobe will preview major updates to the video applications in Adobe Creative Cloud, including Adobe Premiere Pro CC, Adobe After Effects CC, and unveil major enhancements to Adobe Primetime, the industry's most advanced TV delivery and monetization platform, which will help broadcasters and pay TV providers scale video delivery across OTT and other devices. Adobe also announced important updates to Adobe Anywhere, the collaborative workflow platform that empowers users of Adobe Premiere Pro CC and Adobe Prelude CC to work together using centralized media and shared projects. In addition, Adobe is unveiling new mobile technology in development called "Project Candy" that will reinvent the color workflow for editors and Adobe Character Animator, a new professional-quality animation tool that brings characters to life using a webcam, microphone and facial gestures. To learn more about Adobe Creative Cloud and Adobe video tools, go to http://www.adobe.com/go/video. More information about Adobe at NAB can be found here: http://adobe.ly/1GPXwdB, or see Adobe at NAB in Booth SL5110.
About Unlimi-Tech Software, Inc.
Located in Ottawa, Canada, Unlimi-Tech is an Emmy® Award winning pioneer in managed file transfers and the creator of FileCatalyst, a world leading accelerated file transfer solution. Founded in 2000, the company has more than one thousand customers in media & entertainment, energy & mining, gaming, and printing, including many Fortune 500 companies as well as military and government organizations. FileCatalyst is a software platform designed to accelerate and manage file transfers securely and reliably. FileCatalyst is immune to the effects that latency and packet loss have on traditional file transfer methods like FTP, HTTP, or CIFS. Global organizations use FileCatalyst to solve issues related to file transfer, including content distribution, file sharing, and offsite backups. To learn more visit filecatalyst.com or @FileCatalyst on Twitter.