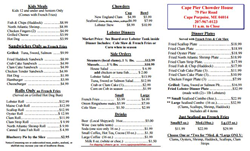 Kennebunkport, Maine (PRWEB) April 10, 2015
Open seasonally, Cape Pier Chowder House Restaurant serves a variety of meals to satisfy any appetite, including fresh caught lobster, shrimp, and scallops, all in a relaxing and casual atmosphere.
As Cape Porpoise Lobster Company supplies premium fresh seafood to Cape Pier Restaurant each day, the two have become Kennebunkport's favorite suppliers of fresh Maine lobster and seafood.
Situated at the end of Pier Road next to the town pier and alongside the beautiful Maine coast, the restaurant directly overlooks the water, providing dinners with a view of local lobster boats in the harbor. Seating is available either inside the restaurant or outside on the deck.
Lobster Bakes
Cape Pier Chowder House Restaurant also holds private parties and Lobster Bakes on the Chowder House deck. Host a party for up to 100 people and let Cape Pier Restaurant do the cooking!
Open Season
We are open for the 2015 season!
For the early Spring, hours are Friday, Saturday, Sunday and Monday - 11 a.m. 'til Close
Starting May 1st until October 31st, the Chowder House is open seven days a week - 11 a.m. 'til Close
Our 2015 menu is here, so you can start deciding on your first order now. We look forward to seeing you in beautiful Kennebunkport, Maine!
Cape Pier Chowder House Restaurant 2015 Menu
Cape Pier Chowder House Restaurant
79 Pier Road, Cape Porpoise Harbor, Maine
(207) 967-0123