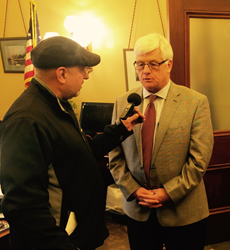 Harrisburgh, PA (PRWEB) April 10, 2015
On March 4, 2015 dozens of athletic trainers (ATs) and athletic training students (ATSs) traveled from all over the Commonwealth of Pennsylvania to the capital city of Harrisburg to advocate for and promote the profession of Athletic Training. The Pennsylvania Athletic Trainers' Society (PATS) organized the annual lobbying effort and is a collaboration of the PATS executive board along with the Governmental Affairs (GAC) and Public Relations (PR) committees. The annual "Hike to Harrisburg" event is PATS yearly visit to meet with PA's elected Senators and Representatives to educate them, and the public about the benefits that athletic trainers provide.
The delegation of athletic trainers began with a strategic planning meeting and divided into teams. The PATS lobbying firm, the Winter Group (TWG), helped develop the talking points for the day. Governmental Affairs Committee Chairwoman, Tanya Miller reported "the day started with a welcoming from PATS President John Moyer and Mark Singel, President of The Winter Group both who discussed our goals for the day and providing us advice." The teams met with over 20 legislators. The athletic trainers were able to drop off educational materials at another dozen offices.
PATS President John Moyer stated "With the recent elections, the main goal of the "Hike To Harrisburg" event was to thank those legislators who have been PATS supporters and to enlighten the freshman legislators about our Society, as well as, our role in concussion and sudden cardiac arrest management and other recent health care issues that we have supported." From a student perspective, Sydney Boyce, a junior-level ATS at King's College stated "On my first Hike to Harrisburg I attended, I couldn't have had a better experience. As a constituent of Senator Scavello, I was very thankful when he offered his time to accompany my group and me on a personal tour through the Capitol building and its history. I got to capture my experience in a photo, as I got to be "Senator for the day" and sat in Senator Scavello's senator chair. I also had the pleasure of meeting Senator Tomlinson and was quite impressed by his knowledge of the human body as he related to his own personal experiences with athletic trainers."
As part of the program, Michael Parks, talk show host, of iHeart Radio was able to interview Rep. Tim Briggs and Sen Tomlinson. The audio for this broadcast can be found "here" The pair of elected officials are friends of athletic trainers and introduced the resolution recognizing March as Athletic Training Month in Pennsylvania in the House and Senate Respectively. Moyer commented on the officials, "We intend to use the support of Representative Briggs, Senator Tomlinson and also Senator Browne to get the word out about the positive role of the licensed Athletic Trainer in the Commonwealth. Representative Briggs and Senator Browne, who were the primary sponsors of the Safety in Youth Sports Act will be involved in a media presentation about concussion management and care to be aired on PCN in the near future."
Parks noted after interviewing Representative Briggs and Senator Tomlinson, "I was very impressed with their knowledge of what athletic trainers actually do and what a vital role they play in helping to protect our student athletes from injury, and if injured, how they help them heal, recover and get them back in the best playing shape."
Throughout the day athletic trainers staffed an information table in the East Wing Rotunda. During session days this is a center of activity. Officials, staffers and visitors pass through the rotunda. On that day people were able to pick up information about the profession of athletic training. Pamphlets and information on the education of athletic trainers, as well as how ATs help athletes recover from concussions. Additionally many people were able to get a special clipboard that PATS designed to promote this years' NATM Theme "We Prepare - You Perform". The clipboards provided basic concussion information so that parents and coaches alike can be better prepared to recognize concussions.
The work of the Executive Board of PATS, the GAC, the PR committee and PATS Lobbyists, The Winter Group, lead to a great day. Moyer commented "Tanya Miller and the GAC have done an excellent job of being on top of the latest health care legislation coming out of Harrisburg that requires support from PATS. By supporting legislation, we will increase legislative relationships that we can build on leading up to next years' Hike to Harrisburg."
For more information regarding this topic or to schedule an interview with PATS President John Moyer LAT, ATC, please contact Linda Mazzoli MS, LAT, ATC, PATS Executive Director at patsexecutivedirector(at)gopats(dot)org
The Pennsylvania Athletic Trainers' Society, Inc. is a progressive organization of licensed health care professionals who work under the direction of a licensed physician. Our society continues to increase public awareness and education regarding Athletic Trainers and the Athletic Training profession while serving as the premier source of information for public safety, injury and illness prevention, early intervention, patient care, and healthcare delivery for the physically active in the Commonwealth.
"The Keystone to a Healthy and Physically Active Life"