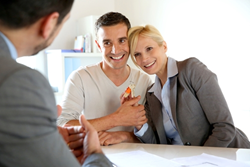 In addition to government programs, some cities also offer local assistance for down payments.
Chicago, IL (PRWEB) April 10, 2015
As first-time home buyers, house hunters must not only determine whether the price of the home is right but also their down payment amount. While a 20 percent down payment on a house has been the norm in the past, The Federal Savings Bank knows that the economic downturn has made it difficult for first-time home buyers to save the funds needed for this huge expense. Rather than squeeze these buyers out of the housing market for lack of down payment money, there are several ways home buyers can qualify for a mortgage without having to put down a significant amount of funds.
Here are four home financing tips for first-time home buyers:
Try conventional loans
Since their down payment will determine their total mortgage debt and whether they will afford their house, home buyers should know whether conventional loans are a good fit for them.
Fannie Mae and Freddie Mac loans. Recent changes to lending requirements from Fannie Mae and Freddie Mac now let home buyers put down as little as 3 percent on their home purchases, according to USA Today on February 15th. House hunters should be aware of other restrictions, such as having a good credit score when they decide on applying for conventional loans.
Look Into Government Programs
There are also government-backed home loans that could save first-time home buyers money if they have less than 20 percent down.
FHA mortgages. The U.S. Federal Housing Administration announced it would lower mortgage insurance premiums, increasing housing affordability. Additionally, Trulia on March 23rd highlighted loans specifically for first-time home buyers who could pay as little as 3.5 percent down, if they qualify.
VA mortgages. Another option is a loan from the U.S. Department of Veteran Affairs, which qualified home buyers can have for a 0 percent down payment.
USDA mortgages. Similar to VA mortgages, mortgages from the U.S. Department of Agriculture can also be obtained for 0 percent down. The difference, however, is USDA loans are usually for people who are not in urban areas. Buyers will also have to pay private mortgage insurance.
Search For Local Assistance
In addition to government programs, some cities also offer local assistance for down payments.
City-offered down payment help. There are some cities that will offer first-time buyers between $10,000 to $200,000 toward their down payment, according to Trulia.
Search For Other Finance Opportunities
Some sources of financing are closer to home, as first-time home buyers also have the choice of receiving money from relatives.
Gift money from relatives. Rather than going to a financial institution for help, potential homeowners can also ask for gift money for their down payment. Many lenders are used to handling down payments that are in the form of gift money from family members.There are some restrictions and requirements for down payment gifts for home buyers. Home buyers' gift donors need to submit a gift letter statement to the lender stating how much they are giving and their relationship to the home buyer. Zillow noted under the 2014 lifetime gift tax exclusion law, any individual can give another $14,000 per year tax free. If home buyers find their down payment exceeds this gift amount, they should look for other home financing options.
First-time home buyers can contact The Federal Savings Bank, a veteran owned bank, to learn more about mortgages.