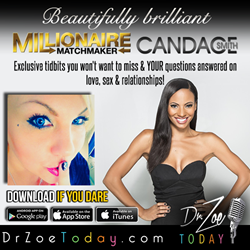 "Ok people you don't want to miss this! I admitted waaaaaay too much in this interview!" Candace Smith, The Millionaire Matchmaker
New York, NY (PRWEB) April 10, 2015
Dr. Zoe Shuster has done it again. Yet another celebrity has confessed some of their deepest, darkest secrets on Dr. Zoe Today. This week's show featured "Beautifully Brilliant" Candace Smith from Bravo TV's "The Millionaire Matchmaker"... and she got very candid during her interview last night on Dr. Zoe Today.
There's been some speculation and controversy this season after UFC Fighter Luke Rockhold reportedly made some moves on Patti Stanger's right hand gal. After the episode, Patti tweeted, "So @LukeRockhold as much as I love him hit on @TheCandaceSmith which she was put on probation for flirting with him! They kissed I flipped" and Mr. Rockhold told TMZ he "hooked up with one of the Co-Hosts". Link here. Candace had not confirmed or denied to Patti, TMZ or any other news source exactly what happened, until her interview Thursday night with Dr. Zoe.
From admitting that she IS attracted to Luke to the details of the kiss to the in-depth scoop on Patti's rampage off camera, you heard it first on Dr. Zoe Today!
The topic contained so many details, it took up 15 minutes of the 1 hour interview. Listen to the clip here
Many other exclusive tidbits were shared from Candace's upbringing to information on some of Millionaire Matchmaker's celebrity guests! To hear the full interview of "Beautifully Brilliant Millionaire Matchmaker Candace Smith", listen in the free "Dr. Zoe Today" app available in the App Store and Google Play or at http://DrZoeToday.com
Because of Candace Smith and Dr. Zoe's undeniable radio chemistry, they didn't even scratch the surface of what they wanted to cover so Candace will be returning next Thursday (April 16th) for part 2 of Beautifully Brilliant!