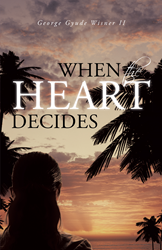 A heart in love will stop at nothing.
MONROVIA, Liberia (PRWEB) April 13, 2015
All's fair in love and war.
In "When the Heart Decides," author George Gyude Wisner II tells an entangled love story between a young Liberian woman and a rebel commander amidst the early 1990's Liberian Civil War.
After David Saye, a notorious rebel leader, rescues Sarah Lawson's father from an execution by members under his command, Sarah believes it is simply a miraculous coincidence. However, it isn't long before Sarah, a devout Christian woman from a middle-class family, realizes that behind this extraordinary intervention is David's wish to lure her into his arms.
"A heart in love will stop at nothing; including the barrier of ethnicity, socio-economic status, family loyalty and religious dogmatism," Wisner said.
Wisner, who grew up in Liberia during its civil war, was inspired to write "When the Heart Decides" by his desire to communicate his feelings and experiences of war with his countrymen and the rest of the world.
Wisner hopes that by capturing the interplay between civil conflict and romance, as well as the realities of war and exposing some of the social and political undercurrents to the Liberian conflict, that future generations will be reminded about the vices of war and prevent future wars.
When the Heart Decides
By George Gyude Wisner II
ISBN: 978-1-49170-694-7
Available in hardcover, softcover and e-book
Available on Amazon, Barnes & Noble and iUniverse
About the author
George Gyude Wisner II has a bachelor's degree in sociology and demography from the University of Liberia, as well as a master's degree in public policy from Australian National University. Wisner served as Assistant Foreign Minister for African and Asian Affairs in the Ministry of Foreign Affairs of Liberia from 2008-2012. He has also held multiple positions within various youth organizations in his home country. Wisner is a seasoned world traveler, having visited 29 African states, 24 U.S. states and many cities throughout the Caribbean, Middle East, Asia and Australia.
# # #
**FOR IMMEDIATE RELEASE**
For review copies or interview requests, contact:
Jennifer Uebelhack
317.602.7137
juebelhack(at)bohlsengroup(dot)com