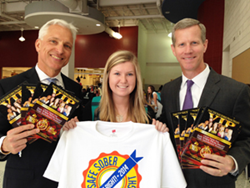 "We are so proud of the young people of this community. They are the best and brightest of their generation." David Daggett shared.
Winston-Salem, North Carolina (PRWEB) April 13, 2015
The Safe Sober Prom Night program, presented by Daggett Shuler Attorneys at Law, is believed to be one of the largest and longest running privately funded initiatives of its type in the United States. David Daggett, co-founder of the program, says he now meets students whose parents participated in Safe Sober Prom Night when he helped start it in 1991. Daggett Shuler is proud to be bringing the Safe Sober Prom Night message to a whole new generation of teenagers in North Carolina
"The goal of Safe Sober Prom Night is to provide ongoing awareness of the dangers of drugs and alcohol and to encourage positive peer pressure to reduce underage drinking and drug use," explains Griff Shuler. The program is active in 47 high schools across ten counties throughout the greater Triad region of North Carolina.
A T-Shirt Design Contest, is one of the highlights of the SSPN program and is conducted during the fall semester, which kicks off the program each year. Student artists submit original designs encouraging their peers to be safe and sober on prom night. The winning design is then printed on the front of over 15,000 t-shirts that are distributed to high school juniors and seniors throughout the Triad. Each year, the winner of the contest is awarded a $500 college scholarship. Many schools incorporate these t-shirts into their spirit week leading up to prom, creating an atmosphere of positive peer pressure encouraging their students to make safe decisions on Prom night.
This year, Noah Zenger, a senior at Career Center and Reagan High Schools in Winston-Salem won the t-shirt design contest and scholarship. "The energy and excitement in the room is infectious when the students realize that one of their classmates has won the SSPN contest." Daggett Daggett, Co-Founder of Safe Sober Prom Night.
Each year, Safe Sober Prom Night is pleased to bring a nationally renowned speaker to the Triad to connect with students at ten local high schools. This year, Jeremy Bates, a.k.a. "The Hope Dealer" joined David Daggett and Griff Shuler of Daggett Shuler, Attorneys at Law. His story of finding hope in a seemingly hopeless upbringing had a profound impact on the students. "We have received an overwhelming response from students, teachers, and administrators this year telling us how much hope and wisdom Jeremy was able to impart to the students in his time with our program." Griff Shuler shared.
Perhaps the most well-known event of the Safe Sober Prom Night Program is Pledge day at each of the 47 participating high schools. David Daggett, Griff Shuler, and volunteers from the staff at their personal injury law firm, Daggett Shuler, visit each school personally before prom to have the students sign a pledge card promising to stay safe and sober on prom night.
Each student who signs a pledge card receives a t-shirt bearing the winning design. "When the program started 25 years ago I had to coax the students to the table to sign the pledge card and get a t-shirt," Daggett told us. "Many kids in the early 1990's would stuff their t-shirts in their backpacks. Now when we arrive at the schools the kids are so eager and enthusiastic about the pledge. Most will put their t-shirt on right away, and wear it like a badge of honor for the rest of the day!"
Over the past 25 years, more than 500,000 students have signed the Safe Sober "Do it Right!" pledge with many more to join them this prom season. "We are so proud of the young people of this community. They are the best and brightest of their generation." David Daggett shared. Safe Sober Prom Night is our way of wrapping our arms of support around these teens to help put them, and keep them, on the right path."
Photos attached. Additional information available upon request.
###
Daggett Shuler, Attorneys at Law, principal office is based at 2140 Country Club Road, Winston-Salem, NC 27104. The firm handles personal injury claims including serious injuries, automobile accidents, workers' compensation and social security disability. They have received national recognition for their Safe Sober Prom Night program. http://www.SafeSober.com http://www.DaggettShulerLaw.com