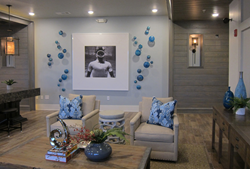 These projects all appeal to the Millennial resident, yet are so different, drawing influence from their environments and staying true to their niche.
Winter Park, FL (PRWEB) April 12, 2015
Award-winning interior design firm, Beasley & Henley Interior Design (BHID) has completed the interior design for the luxury apartment complex, AVIVA for Hines in Coral Gables FL., Kensington Place in Virginia for Van Metre, and Bluwater for Tribridge Residential in Jacksonville Beach FL.
Beasley & Henley's sleek and modern designs for these projects reflect the region's demand for upscale, urban residences in a for-rent environment.
Beasley & Henley, with its long history of award winning multi-family projects, was specifically selected by Hines, Van Metre and Tribridge to create unique looks that reflect the area and environment for these projects. In each space Beasley & Henley created the luxury common areas through detailed space planning, specification of all finish materials, detailed drawings and custom furniture package.
"These projects area all unique and very different from each other," states Design Principal Troy Beasley. "One is at the beach, one is downtown and one is in a bedroom community."
Beasley continues to explain that despite their differences they all share today's desire for a project to be comfortable, sophisticated and very approachable.
The Millennial Generation that makes up the majority of today's renters, will continue to look for unique projects that fit within the authenticity of their location and the desires of the residents.
"Millennials dislike anything forced or untrue to its environment," notes Principal Stephanie Henley. "We research all our projects and work the developer and the management team to create an inviting, sociable surrounding."
Beasley & Henley is pleased to continue its alliance with these growth-focused companies along with several other multi-family developers. The design team is currently working on more than a dozen projects across the SouthEast.
-------------------------------------------------------------------------------------------------------------------
Beasley & Henley Interior Design is a boutique design firm that believes in creating innovative and memorable interior spaces, uniquely suited to our client's needs and specific goals. With 20+years of experience in award winning multi-family projects, our industry leading team is composed of the best designers and staff, providing our clients with exceptional quality and exceeding their expectations. If you have questions about this project or any other, please reach us in Central Florida at 407-629-7756 or at our Naples office at 239-774-1005. You can email us at Stephanie(at)BeasleyandHenley(dot)com or visit us on the web at http://www.BeasleyandHenley.com