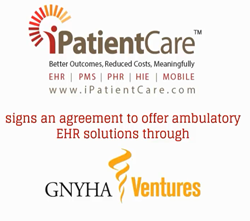 We view this certification and subsequent selection as validating iPatientCare's lead position among EHR and RCM/Billing services providers dedicated to furthering the transition to value-based healthcare leveraging EHR " - Kedar Mehta, CTO, iPatientCare
(PRWEB) April 14, 2015
iPatientCare, Inc., a pioneer in mHealth and cloud-based ambulatory EHR and integrated Practice Management/Patient Engagement solutions, announced today that it has signed an agreement to make its EHR solution, iPatientCare EHR 2014 (2.0), available to members of the GNYHA Ventures group purchasing companies: GNYHA Services, Inc., Innovatix, LLC and Essensa Ventures, LLC. GNYHA Services, Innovatix, and Essensa collectively represent over 39,000 members nationally.
iPatientCare is the first EHR vendor selected from a rigorous evaluation process in accordance with the GNYHA Ventures Ambulatory Electronic Record Request for Proposal (RFP). Through this agreement, GNYHA Services, Innovatix, and Essensa healthcare members have access to an ambulatory EHR and related services, including a list of free interfaces and custom reports. iPatientCare has agreed to provide significant discounts to GNYHA Ventures' members for these products and services.
Following completion of the thorough technical specification testing required in order to comply with the RFP guidelines, iPatientCare EHR 2014 (2.0) successfully completed Interoperability Work Group Conformance Testing to attain Edge System Certification from ICSA Labs on March 25, 2015.
"We are very proud to be the first Ambulatory EHR vendor offered through the GNYHA Ventures contract portfolios," said Udayan Mandavia, President/CEO, iPatientCare. "This is a significant achievement of iPatientCare, in line with its long track-record of being a high achiever and thought-leader in this space. We look forward to offering members of GNYHA Services, Innovatix, and Essensa iPatientCare's Ambulatory EHR, Patient Portal, and mHealth solutions, along with the high-quality Revenue Cycle Management/Billing Services." He further added, "This achievement has come at a very appropriate time as HIMSS 2015 is just around the corner, and we are very excited to demonstrate our interoperability profiles at the upcoming HIMSS 2015 as part of the interoperability showcase."
"We view this certification and subsequent selection as validating iPatientCare's lead position among EHR and RCM/Billing services providers dedicated to furthering the transition to value-based healthcare leveraging EHR and HIE interoperability," added Kedar Mehta, CTO, iPatientCare.
About iPatientCare
iPatientCare, Inc. is a privately held medical informatics company based in Woodbridge, New Jersey. The company is known for its pioneering contribution to mHealth, as well as its Cloud-based unified product suite that includes an Electronic Health/Medical Record and integrated Practice Management/Billing System, Patient Portal/PHR, Health Information Exchange (HIE), and mobile point-of-care solutions that serve the ambulatory, acute/sub-acute, emergency and home health market segments.
iPatientCare EHR 2014 (2.0) has received 2014 Edition Ambulatory Complete EHR certification by ICSA Labs, an Office of the National Coordinator-Authorized Certification Body (ONC-ACB), in accordance with the applicable eligible professional certification criteria adopted by the Secretary of Health and Human Services (HHS).
Full certification details can be found at ONC Certified Health IT Product List.
The ONC 2014 Edition criteria support both Stage 1 and 2 Meaningful Use measures required to qualify eligible providers and hospitals for funding under the American Recovery and Reinvestment Act (ARRA).
iPatientCare's ONC 2014 Edition Meaningful Use Stage 2 Certified Complete EHR is also Designated as a Test EHR by CMS.
The company has won numerous awards for its EHR technology and is recognized as an innovator in the field, being a pioneer to offer an EHR technology on a handheld device, an innovative First Responder technology to the US Army for its Theatre Medical Information System, the first to offer a Cloudbased EHR product. iPatientCare is recognized as one of the best EHR and Integrated PM System for small and medium sized physicians' offices; has been awarded the highest number of industry Awards; and has been recognized as a preferred/MU partner by numerous Regional Extension Centers (REC), hospitals/health systems, and academies.
Visit http://www.iPatientCare.com for more information.
About GNYHA Services:
GNYHA Services is a strategic group purchasing organization and supply chain resource for hospitals and health systems. Its leading industry experts identify data-driven methods to support members in lowering total costs while improving outcomes.
Founded in 1978, GNYHA Services was created to provide supply chain solutions for hospitals in the Greater New York area. The company has since grown nationally and now serves more than 300 hospitals and health systems in New York, New Jersey, Connecticut, Massachusetts, and Puerto Rico.
About Innovatix:
Innovatix is the nation's leading non-acute care group purchasing organization (GPO). It serves more than 23,000 home infusion, senior living (nursing homes, assisted living, skilled nursing facilities), specialty pharmacy, long-term care pharmacy, retail and mail order pharmacy, K–12 schools, and independent medical oncologists. The newest division, Innovatix Business and Industry, offers GPO services to financial, legal, and professional services firms as well as independent businesses nationwide.
Innovatix offers an industry-leading portfolio of products and services. A member of the Healthcare Group Purchasing Industry Initiative (HGPII), Innovatix is committed to conducting business with the highest integrity and transparency. Membership is free and includes such added value as federal advocacy, free continuing education, and clinical expertise.
About Essensa:
Essensa is a group purchasing organization that reduces costs and streamlines workflow for non-acute healthcare providers and other commercial markets nationwide, including hospitality, recreation, and municipalities. Our more than 14,000 members have access to a broad portfolio of over 2,000 contracts spanning needs from clinical products to office supplies, food, and shipping services. In addition to free membership, Essensa offers business analytics to optimize contract utilization, streamline procurement processes, and help members improve operating efficiencies.