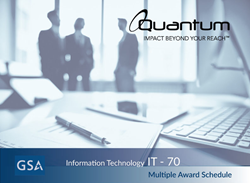 "Quantum is honored by the government's confidence in its products, pricing and services," said Eytan Wiener, COO and Co-Founder of Quantum. "We have been a leader in the industry for years, and now we look forward to providing our exceptional products an
New York, NY (PRWEB) April 14, 2015
Quantum Networks, an online reseller of technology products, announced today that it has been recognized by the Federal government as a preferred vendor and has been awarded the U.S. General Services Administration (GSA) IT Schedule 70. Known as the Multiple Award Schedule, the Schedule 70 grants Federal agencies direct access to the commercial experts who can thoroughly address the needs of the government community with comprehensive IT equipment, software and services.
The five-year contract, which was granted effective June 2014, has allowed Quantum to provide a streamlined process to government agencies for acquiring hardware and software products, support, training, and consulting services at approved pricing and with license terms from a trusted vendor.
"Quantum is honored by the government's confidence in its products, pricing and services," said Eytan Wiener, COO and Co-Founder of Quantum. "We have been a leader in the industry for years, and now we look forward to providing our exceptional products and services to federal agencies."
Becoming a Schedule 70 vendor involves a rigorous process and thorough internal due diligence that covers an array of a corporation's capabilities, including organizational structure, performance history, financial success, customer satisfaction, and other criteria. The contracts are then negotiated with the intent of achieving the vendor's "most favored customer" pricing, discounts and concessions.
In awarding Quantum a GSA schedule 70 contract, the Federal government has recognized the company as a trusted and preferred vendor that is fully authorized to conduct business directly with Federal government agencies in providing hardware and software products, support, training, and consulting services.
About Quantum Networks, LLC:
Quantum Networks brings next generation products and services to market through an omni-channel merchant network. The company focuses on industry verticals with market caps between $100 and $250 million in annual sales using a "sales assist" component. From its launch in 2008, Quantum Networks has experienced a 4,566% increase in revenue and also received the INC. 500 award two years in a row in recognition for being one of the fastest growing companies in the United States. Quantum looks to continue their success with the addition of the GSA IT 70 contract.
For media inquiries regarding Quantum Networks, please contact Bita Goldman, Esq., General Counsel and Vice President of Operations directly at (212) 993-5899 or via email at Bita(at)quantum-co(dot)com. To learn more about the company, please visit: http://www.quantum-co.com.