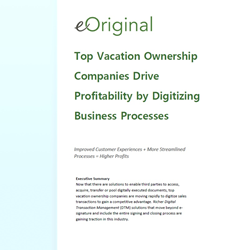 As this white paper demonstrates, digitally closing deals preserves the elegance, ambiance, and luxury of the moment for the customer while positioning the vacation ownership company as cutting edge.
Baltimore, MD (PRWEB) April 15, 2015
eOriginal, Inc., the digital transaction experts, today announced it has released a white paper titled, "Top Vacation Ownership Companies Drive Profitability by Digitizing Business Processes." The informative white paper highlights how to overcome the traditional obstacles within the vacation ownership and timeshare industries to realize the benefits of digitizing sales transactions and implementing a fully digital transaction management (DTM) solution.
The white paper profiles two leading vacation ownership companies as use cases. Prior to adopting a DTM solution, both companies sought to enhance their sales processing experiences to provide better, faster, and more pleasant experiences for its members and sales staff, reducing time spent in the sales and closing rooms along with tedious and often inefficient processes.
Through a collaboration between eOriginal and DocuSign, Inc., and system integration experts, Informa Software, Westgate Resorts, one of the nation's top vacation resort companies, was delivered a complete end-to-end digital solution for their entire business processes: from sales presentations to customer contract execution, while providing a secure vaulted management of all documentation and signed contracts and loans. This has provided Westgate Resorts increased speed and functionality, in addition to a legally binding solution that provides a complete audit trail throughout the lifecycle of their contracts.
For the other leading vacation ownership company, adopting an end-to-end DTM solution helped replace their inefficient paper-based process, which required up to six phone calls and weeks of FedEx exchanges for customers to sign. As a result of their digital transformation, the company realized a return on investment that was in excess of 2000 percent.
Additional benefits of the fully digital process for the two leading companies, in addition to the vacation ownership industry as a whole, include, but are not limited to:

Incorporation of mobile and advanced technology to meet and exceed the digital demands of the millennials.
Eliminating third-party transaction fees and providing continuous integration for county official records.
Providing a seamless buyer experience in a secure environment with access to all documents.
Eliminating the cost, time and potential human error of hard-copy document management by eradicating the process of printing, scanning, faxing and mailing paper contracts.
Managing risk of the financial assets throughout their lifecycle, ensuring the ability to pledge, sell, and securitize eAssets.
"Richer digital transaction management solutions that move beyond e-signature and include the entire signing and closing process are gaining traction in this industry," said Stephen Bisbee, CEO and president of eOriginal, Inc. "As this white paper demonstrates, digitally closing deals preserves the elegance, ambiance, and luxury of the moment for the customer while positioning the vacation ownership company as cutting edge."
Those interested in learning more about the traditional obstacles and benefits of going digital in the vacation ownership industry can download a copy of the white paper here: http://info.eoriginal.com/Vacation-Ownership-WP-Download.html.
About eOriginal, Inc.
Founded in 1996, eOriginal is the trusted expert in digital transaction management solutions, specializing in the post-execution management of financial asset documentation. eOriginal SmartSign® and eAsset® Management Services enable an end-to-end solution for fully electronic transactions that must be managed with the highest levels of security and compliance throughout their lifecycle. By treating every transaction as having assets that must be verifiably secure, legally compliant and enforceable, eOriginal provides its customers and partners with eCertainty®. For more information, please visit http://www.eoriginal.com. eOriginal®, eAsset®, eOriginal SmartSign® and eCertainty® are trademarks of eOriginal, Inc. and are registered in the United States or in other jurisdictions.