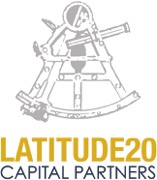 "The combination of our experienced team, "Ecosystem", Origination Strategy and infrastructure has resulted in a robust growth platform." explained Guillem
New York, New York (PRWEB) April 15, 2015
Latitude20 Capital Partners (Lat20), a specialty finance company providing structured trade financing solutions to Emerging Market Small and Medium Sized Enterprises (SMEs), has announced the opening of its U.S. headquarters in New York, New York.
Established by experienced, entrepreneurial Trade Finance and alternative asset management professionals with over 60 years of relevant industry experience, Lat20 provides structured finance trade loans to processing companies primarily in the agribusiness, aquaculture, energy & metals industries. By focusing on Emerging Markets, primarily Latin America, Lat20 exploits areas in which traditional funding providers have difficulty providing financing to SMEs resulting in a significant trade cycle funding gap.
As approximately 90% of the $18.5 trillion global export volumes are supported by Trade Finance, global events, such as increased capital restrictions for banks, have and will continue to focus lending activities away from SMEs, creating a unique scalable opportunity for Lat20. Lat20 provides short-term trade financing solutions, defined as transaction with durations typically less than 18 months. Short-term Trade Finance products have historically experienced a low default rate (0.24%) coupled with a high recovery rate (60%).
"Lat20's established, strong "Ecosystem" consisting mainly of three pillars (experienced local Business Development Managers, in country Legal Counsels and reputable Service Providers), has been a key element in Lat20 originating a robust pipeline of Structure Trade Finance transactions," commented Raymond Guillem, Chief Investment Officer of Latitude20.
Lat20 has established a broad, proprietary "Ecosystem" in various local jurisdictions and has a Dual Asset Origination Strategy, which includes partnering with multinational commodity trading companies and financial institutions for asset purchases along with providing tailored direct financing solutions to SMEs. As such, Lat20 has garnered not only the attention of Latin American businesses, but the global investment community, which is committing to the Lat20 opportunity given the long term growth platform.
"In the current global economy, investor appetite and demand for high yielding, collateral backed assets with historically near-zero loss rates has been overwhelming. With the organizational "assets" that we have amassed to date, Lat20 is excited about continued partnerships with global asset managers and lenders focused on the well-established trade finance industry." stated Jason Bross, Chief Operating Officer of Latitude20 Capital Partners.
Armed with a robust, qualified transaction pipeline and strategic assets, Lat20 is poised for a very busy 2015 and beyond.
About Latitude20 Capital Partners
Latitude20 Capital Partners is a newly formed specialty finance company providing innovative structured trade financing solutions to Small and Medium Sized Enterprises predominantly domiciled in Emerging Markets. Lat20's comprehensive strategy is comprised of an experienced management team, proprietary "Ecosystem", unique Origination Strategy and robust organizational infrastructure.
For more information, please visit http://www.lat20cap.com