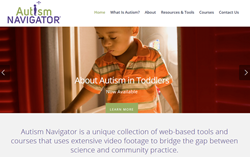 Early diagnosis and intervention can change trajectories for many children on the spectrum. We want to share this hopeful message with the world.
Tallahassee, FL (PRWEB) April 16, 2015
Dr. Amy Wetherby, founding member of Autism Navigator LLC, announced today the launch of About Autism in Toddlers—a free resource for parents and professionals interested in learning more about the early signs of autism spectrum disorder (ASD) in young children.
The Centers for Disease Control and Prevention estimates that one child in 68 presents with ASD. Symptoms vary widely, from a mild degree of social impairment to intellectual and language disabilities.
Research suggests that early and intensive intervention can significantly improve outcomes. However, early screening and referral to treatment are not routinely provided in pediatric settings. Wetherby and her colleagues are determined to make early detection and access to care more available.
"Our vision is to make the Autism Navigator® evidence-based resources free to families and to utilize the fees associated with the professional development courses to fund ongoing research and development," said Wetherby.
The extensive video library, based upon years of research conducted at the Florida State University (FSU) Autism Institute in the FSU College of Medicine, is utilized in the web-based resources and tools.
Autism Navigator free resources, like the newly launched About Autism in Toddlers, "help family members learn that everyday activities are important teachable moments, and that these parent-child interactions supported by professional interventions can significantly improve outcomes for children with an early diagnosis," said Dr. Juliann Woods, co-founder of Autism Navigator LLC.
"The key is to begin intervention while the toddler's brain is still forming and in a state of neuroplasticity," says Wetherby. "With effective early intervention, most children with ASD can expect to enter traditional kindergarten classes."
Unfortunately, the average age of diagnosis currently is between four and five years old, when very early intervention is no longer possible. The goal of the research team behind Autism Navigator is to get children diagnosed by 18-24 months, when there is an opportunity to change trajectories. The strategy to accomplish this is to use web-based video to teach parents and professionals around the world the early signs of autism.
"By 16 months, all children should have 16 gestures. They should be reaching, waving, clapping and blowing a kiss, all before they have words," said Wetherby. "Part of what we're doing is teaching parents these social communication milestones, so they'll understand that a child who hasn't mastered these gestures by 18 months needs to get referred for help."
About Autism in Toddlers is the first of many resources developed by the Autism Navigator creators at the FSU Autism Institute. More will be released over the coming months. The professional development courses, Autism Navigator for Early Intervention Providers and Autism Navigator for Primary Care, have been piloted in five states and will soon be available throughout the US and internationally.
"With funding from federal grants, FSU, the State of Florida, and state contracts, we have been able to collaborate with other experts in the area of ASD across the country and in other parts of the world," said Woods.
The research used to craft Autism Navigator was featured in the peer-reviewed article, "Parent-Implemented Social Intervention for Toddlers with Autism: An RCT," published in Pediatrics, the Journal of the American Academy of Pediatrics, November 2014.
"None of this would be possible without the support of the families involved in our research. They have given us permission to use the video clips to help other children and families," said Wetherby. "Our families are the reason we structured the company the way we did—so that the profits go back into development of tools and research designed to help other families."
About Autism in Toddlers is available at no cost through the Autism Navigator website, http://www.AutismNavigator.com. Preview the resource here: http://autismnavigator.com/release-video/
"Early diagnosis and early intervention can clearly change the trajectories of many children on the spectrum," said Wetherby. "We want to share this hopeful message with the world."
For additional information and interview requests with the researchers, please contact Bill(at)AutismNavigator(dot)com or 844.427.3457.