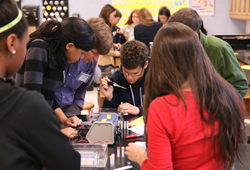 I really like these kind of labs. Wish we could do more of them.
Harrisonburg, VA (PRWEB) April 17, 2015
Twelve high schools and 522 students came together at Harrisonburg High School (HHS), to spend their day off making Biotechnology a priority. Myron E. Blosser, co-director of Harrisonburg's STEM Academy, started this event to give his students a unique opportunity. "When I was in high school, in the late 1970's, there were some pretty cool advances taking place in the world of molecular biology. But I heard nothing about them. I decided that when I had a chance, I was going to let my students know about these remarkable advances as they occur, not years later".
In its 22nd year the symposium has hosted 7,500 students, who have had the opportunity to participate in hands-on activities and interact with keynote speakers discussing current topics, including GMO's and Genomics. Carolina Biological has been a proud supporter of the program since its inception donating lab supplies, providing lab equipment, and offering in-house technical support.
The Symposium focuses on exposing students to cutting-edge science in order to pique their interest in STEM based careers. "Nowhere else in Virginia and maybe in the U.S. can students spend one day focused on biotechnology. This includes doing a lab experiment under the direction of a Ph.D. and hearing from at least 2 different scientists explaining cutting edge research."
Students remarked: "I enjoyed the lab the most, it helped me understand how DNA is used in detecting cancer," and, "It was really cool to be able to actually run a gel and read the results". Blosser added, "While not all students who attend the Symposium are going to go into a profession that involves biotechnology, they will need to be informed and understand current science." At the end of the day one student put it all into perspective, "I felt like a scientist" and that is truly Myron's goal.
The event is also a professional development opportunity for educators. Experiments are led by researchers from James Madison University, Virginia Tech University, Bridgewater College, and Merck & Company. "Providing teachers access to top-tier professional development is a major focus of our organization and this is truly a showcase event" stated Philip Ferralli, Product Manager of Biotechnology from Carolina Biological.
Myron continues to be amazed by the growth of the event and has already begun planning for 2016. Dr. Eric Green, Director National Human Genome Research Institute (NHGRI), is the scheduled keynote. "It is encouraging to see educators like Myron taking an initiative to build a strong foundation in the next generation of scientists. We are always looking to support these types of programs and are already looking forward to 2016" commented Ferralli.
From its beginnings in 1927, Carolina Biological Supply Company has grown to become a leading supplier of science teaching materials. Today, from its headquarters in Burlington, North Carolina, Carolina serves customers worldwide, including teachers, professors, home-school educators, and professionals in health and science-related fields. Please visit our website, http://www.carolina.com, to learn more about our Biotechnology products and the experiment the students conducted, Fast Gels Kit. If you have a professional development event that needs support please contact Carolina Biological.